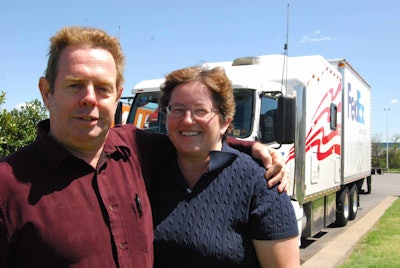 Phil and Diane Madsen haul expedited in this 2006 Volvo with 132-inch ARI sleeper and 16-foot box. Over the past several years, I've called on the pair several different times for perspective on all manner of topics, from truck maintenance/warranty issues to unique hauls to examples of the many owner-operators out there taking to the web to write and publish. I profiled Phil as part of the "Trucker webmasters" piece in the September 2010 edition of Overdrive.
Phil's "Learning something new every day" blog contains some of the best writing on the long-haul life out there, chronicling the small things experienced toward a goal of casting the big picture in a clear light. I'm honored to now be a part of it (check out the April 12, 2010, entry there), as I finally got the opportunity to meet the pair this past Tuesday.
The Madsens' story is emblematic of the infinite variety among the U.S. trucking public — they met during Jesse Ventura's campaign for the governorship of Minnesota, Diane serving as counsel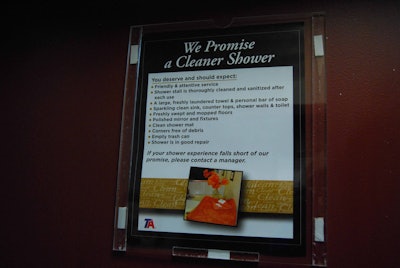 later on during Ventura's administration, before taking to the highway in their expediting unit. And a trip to the truckstop always yields perhaps unexpected returns. Phil and Diane were equally impressed with the showers at the TravelCenters of America location in La Vergne, Tenn., off I-24. Revamped as TA has made improvements nationwide at TA and Petro locations since summer last year, they now include more towels, nice bath mats, says Phil, and, as the picture here attests, flowers. A question: Anybody else appreciating the improvements?