Drivers go online to provide entertainment, advocacy, business education and more.
The rise of online social networking, with sites like Facebook and Twitter, has transformed the lives of many owner-operators and company drivers by increasing their personal interactions with family and friends while isolated on the road. Some truckers have gone a step further, using free blogging sites and other web publishing tools to broadcast their expertise, experiences, opinions and creativity in new ways.
"It would be very frustrating to be out on the road if you didn't have a way to share it with others," says owner-operator/blogger Phil Madsen. "Blogging is really a godsend."
Some, including Madsen, view online publishing as mere hobby, while others are more mission-driven. Whatever their goals, the following truckers have attracted a large and growing number of readers. A few have even begun to bring in a small amount of ad/sponsor revenue for their efforts, supplementing their trucking income.
Learning something new every day
One half of expediting team chronicles on-highway adventures for truckers and industry outsiders alike.
*Phil Madsen, team expediter with his wife, Diane
*TRUCK: Straight Volvo VNL with 132-in. ARI sleeper and 16-ft. box
*FLEET: Leased to FedEx White Glove Services
Minnesota native Phil Madsen turned to trucking for a new life of adventure with his wife, Diane, in 2003 after the two met during Jesse Ventura's successful campaign for governor. They jumped into the expediting business.

Active in online trucking forums and message boards from the get-go, Madsen sought a way to communicate not only with other drivers but with communities outside trucking. He also wanted a resource by which he and Diane could document their trucking adventure.
He launched SuccessfulExpediters.com in 2006, hoping to provide a platform for himself and others to blog about their businesses and experiences.
While many blogs become meandering accounts of day-to-day trivia, Madsen's "Learning something new every day" blog is focused, offering an ongoing sense of discovery. His audience includes trucking insiders, expediter-wannabes and outsiders with an interest in trucking. Such a broad audience is drawn to the quality of Madsen's writing, which, in a few paragraphs, can update owner-operators on efficiency steps he's taking, detail the history of where he and Diane are parked, and muse about their line of work.
"Expediting is a funny business," Madsen concludes in an entry about visiting the Terrell Heritage Museum in Texas. "When you have freight on the truck, you want to get to the delivery and get it off. When you have no freight on the truck, you want to get some on. And wherever you happen to be, you want to be someplace else."
From "Learning Something New Every Day"
Wed., May 5, 2010: I learned today that Dracula was a Baptist. Learned by seeing the Transylvania Baptist Church as we drove today.
Transylvania was one of two unusual town names we saw while driving through Northern Louisiana. The other was Waterproof. … Local newspaper headlines are likely to create second looks: "Transylvania man weds Waterproof woman." "Waterproof man drowns in river." "Superintendent: Waterproof school needs roof repair."
Answering for the industry
One truck driver's change engine runs on multimedia fuel.
*Allen and Donna Smith
*TRUCK/TRAILER: Slip-seated 2008 Freightliner Columbia, pulling tankers
*FLEET: Pipeline Transportation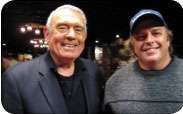 Aubrey "Allen" Smith, a company driver for Florida-based Pipeline Transportation, has made it his mission to push for industry changes to benefit drivers. From his AsktheTrucker.com blog, he promotes a news-aggregating iPhone application called Trucker (truckerapp.com), whose design he oversaw. He also hosts an occasional online radio show called Truth About Trucking (blogtalkradio.com/truthabouttrucking), devoted to trucking issues. He's joined in these and other quests by his wife, Donna, a medical lab researcher.
A 30-plus-year trucking veteran, Smith traces his outreach motivation to a phone conversation overheard in a truck stop. The trucker "couldn't make his truck payment" and feared he would lose his home, he recalls. Smith, who spent most of his career as an owner-operator hauling household goods, had heard this sort of story too many times.
He wrote a book, The Truth About Trucking, to give new drivers the hard facts about the lifestyle and business of trucking. In 2003, he began offering it in e-book form via TruthAboutTrucking.com. As attention spread, he provided audio versions and CD-ROMs, and launched the askthetrucker.com blog to answer readers' questions. The radio show followed in 2008, recently featuring expert guests on topics such as the Arrow Trucking shutdown and misinformation about Comprehensive Safety Analysis 2010.
Smith is collecting signatures on petitions to request federal legislation to better protect truck drivers from false DAC reporting and to show support for the Jason's Law truck-parking legislation, of which his organization was an early supporter.
From "Ask the Trucker"
On May 12th, 2010, Senator Joe Lieberman and Senator John Kerry introduced the American Power Act. Hidden in the proposal is a natural gas provision. According to T. Boone Pickens, the legislation could result in 236,000 natural gas trucks on American roads, as well as adding 600,000 new jobs to the hurting economy. With thousands of American trucks running on domestic natural gas, money spent on fuel would stay here at home. The problem with the proposal is that they are pushing it as a means to solve global warming, thus creating much bashing from various sides in the political realm…
The ride of a lifetime
Owner-operator team delivers comedy, music, advocacy and advice.
*"Keys Truckers" James and Jan McCarter
*TRUCK: 2004 Freightliner Century hauling van freight
*FLEET: Leased to J.B. Hunt

Owner-operators James and Jan McCarter met in east Tennessee, where James owned a plumbing business that employed Jan's brother. Jan had a beauty shop in Gatlinburg and sang in a band and with other acts. The two were married a few weeks after meeting in 1994, beginning the journey that resulted in one of the more dynamic social media teams on the road today. They call themselves Keys Truckers, a named picked up when they lived in the Florida Keys and hauled air freight between Miami and New York City.
Their website promotes Jan's musical efforts, including the recent recording of Pretty Girls Drive Big Rigs Too, a soon-to-be-released CD, and James' videos on YouTube. His serial Bobby Boofay video satire about a naïve trucker has a Facebook page with 1,000-plus fans.
Though they once drove team, James now does all the driving in their 2005 Freightliner Century Class. "Driving team wasn't the best thing for the relationship," says James. "Boom, boom, boom, go here, go there – we'd pass each other through the curtains" to the sleeper. Now leased to J.B. Hunt, which allows them to pick their own loads, the couple has found time to devote to their blog and related projects.
Though much of the Keys Truckers' writings and other creations are comic, many are serious. James' advice extends to subjects ranging from Comprehensive Safety Analysis 2010 to relationship stress on the road. Jan's new CD contains a track written for Jasmine "Jazzy" Jordan, who this summer completed a cross-country run that brought attention to trucking.
The McCarters' enthusiasm comes across in all of their creations. Stephen Adams, fellow YouTube trucker and blogger (truckersteve.com), calls them "a truck driving couple who are living and loving life on the road."
From "Bobby Boofay's 24-Hour Truck Driving School," YouTube.com/keystrucker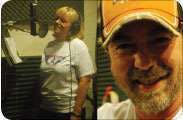 "How much would you pay to become a professional truck driver? $50,000? $40,000? $30,000? Well come on down to Bobby Boofay's 24-Hour Truck Driving School. We're running a special for just $49.95!"
Paths less traveled
'See the country' by truck – and bike – and get more out of it.
* Scott Grenerth
* TRUCK: 2002 International Eagle hauling flatbed freight
* FLEET: Leased to Fikes Truck Line

Ask drivers why they got into the business, and a common answer is "I wanted to see the country," observes Scott Grenerth. "Well, how much do you get to see from the truck, pulling into the Walmart or the Costco, the Lowe's Store loading dock?" Not enough, he says, "but I'm loving driving more than ever since I've gotten to take my bike with me."
Combine that two-wheeler with his transition almost two years ago from company driver to owner-operator, so that he schedules his own loads and gets longer hauls, and Grenerth has experienced some unexpectedly delightful insights he wants to share.
That's why he launched www.truckercycler.com. Click "How to Trucker Cycle" and you'll see illustrations of how he carries his Schwinn (bought for $1 at auction in his northwest Ohio hometown) strapped to the front of his flatbed. He says he's compiling examples from other drivers on how they carry their bikes and adding new places to explore on bike within easy distance of truck stops. His site includes guides to rides through Columbus, North Baltimore and Brookville, Ohio, as well as Oklahoma City; Kansas City, Mo.; New Haven, Conn.; and more.
Biking during off time on the road has obvious fitness implications, but Grenerth sees broader benefits. "A couple Mondays ago in Nashville," he said in April, "I jumped on my bike and went over to see the Time Jumpers. Great music – two miles each way, basically, from the truck stop."
He uses his bike to visit local farmers' markets, grocery stores and healthy restaurants, too. "I'm in the best shape I've ever been in my whole life, at 40 years old," he says.
From Trucker Cycler
Columbus, Ohio
Where to park: Pilot, I-70 Exit 94
Distance to attractions: Under 7 miles
Drivers go online to provide entertainment, advocacy, business education and more.
General terrain in area: Flat to gentle grades
What's nearby: New minor league baseball stadium in Huntington Field, home of Columbus Clippers; state capitol building (free tours); Ohio State University campus (including the famous football stadium and more than 50,000 students); loads of great food options to suit every taste; nice waterfront with multi-purpose trails; thriving music scene; for more: www.jnybny.com/OverviewFm.htm
BIG RIG TRAVELS
This "Photographic Journey of an American Trucker" is broadcast in a live webstream from the dash of Central Refrigerated driver Stephen Michaels, who also includes photos from the road. Michaels' site has caught worldwide media attention for the window it provides into the day-to-day of the American trucker.
HIGHWAY HAGS
This two-woman trucking team took the reins of a 2007 Freightliner Century and transitioned to owner-operator status after years as company drivers. Their blog is a detailed look into the specifics of their business, from equipment maintenance down to on-the-road lifestyle discussions, and is full of sharp-edged humor from both women. www.HighwayHags.com
TRUCKER STEVE
There seems to be three versions of TruckerSteve, the nom de plume of May Trucking company driver Stephen Adams. He presents a blog offering advice and stories from his life on the road; a series of audio podcasts in which he plays a somewhat unsavory character who takes nearly the opposite of Adams' professional approach to trucking and life; and, finally, a series of well-produced short videos. www.TruckerSteve.com and www.TruckerSteve.tv
THE TRUCK STAR
Former hotshot boat hauler Daniel Audet hosts this online free-form radio show, running most nights, as an open forum for long-haul drivers to "call in and hang out," he says. He's been focusing this year on turning to more themed shows with featured guests. www.TheTruckStar.wordpress.com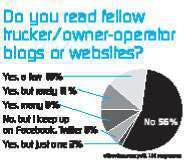 For stories of other drivers making their presence known online, tune into Overdrive Senior Editor Todd Dills' Channel 19 blog: overdriveonline.com/channel19.