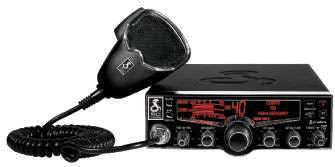 50th anniversary radio
The 29 LX LE Citizens Band Radio, the maker's 50th anniversary release, features a new design, and a selectable LCD screen that can display in red, green, blue or amber and has adjustable night and day settings. The CB has an ergonomic microphone and a large center scroll knob that offers one-touch programming and channel changes. The radio comes with a weather alert scan that automatically advances to clear National Oceanic Atmospheric Administration stations within distance. The Radio Check Diagnostic feature allows drivers to monitor the radio's RF output, SWR setting and battery voltage. The radio includes a 4-watt AM RF power output and instant access to channels 9 and 19.
COBRA, www.cobra.com, (773) 889-3087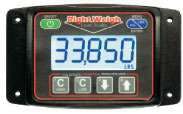 E-Z Weigh Scale
The E-Z Weigh onboard load scale monitors weight of any single, tandem or tri-axle group of an air suspension straight truck, tractor or trailer. The scale measures on-the-ground weight in pounds and kilograms, and its digital gauges are made to withstand extreme temperatures and weather. The scale uses a two-point calibration system to measure to within 300 lb. of actual weight.
RIGHT WEIGH, www.rwls.com, (888) 818-2058

Pressure protection valves
The one-way check pressure protection valves protect against leaks in air pressure from the braking system if an air line or valve in an air-operated accessory fails, the company says. The e-coated zinc diecast body prevents corrosion, and the Nitrile diaphragm provides durability. The valves can be used in air suspensions, air seats or cab isolation systems.
HALDEX, www.haldex.com, (800) 643-2374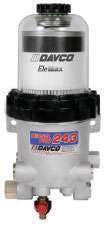 Fuel filter
The Diesel Pro243 acts as a 3-in-1 device, filtering fuel, separating fuel and water and heating fuel. The product is made for medium-duty diesel engines that flow fewer than 60 gallons per hour. The filter's features include shorter height, universal fuel port options, a collar that uses common tool removal and a torque-limiting vent cap.
DAVCO, www.davcotec.com, (800) 328-2611

Cast mandrel winch
The one-piece cast mandrel winch is made of steel and has a redesigned web slot radius. The mandrel cap holes were built to resist egging and elongation for improved safety.
KINEDYNE, www.kinedyne.com, (800) 848-6057
Wheel seal
The e-Barrier Wheel Seal has a labyrinth design with low profile sections, right-angle corners, low-friction barrier, two rubber wipers and water-proof grease. The seal can be installed by hand, and comes in seven sizes.
CHAMPS SEAL, www.ebarrierseal.com, (888) 509-7325
Hands-free work light
The Command 20 Tactical Headlamp has 60 lumens of output with a focused setting for working around the truck and two settings for visibility up to 120 feet. The waterproof light has a flashing red light on its battery pack.
Fox Fury, www.foxfury.com, (760) 945-4231
Coolant leak repair
K-Seal's ceramic and copper formula mixes with all types of anti-freezes. The sealant works by mixing with engine coolant and making a ceramic repair after the engine has reached working temperature. The sealant works in engine blocks, heads, radiators, heater matrixes, freeze plugs and head gaskets and will not block or damage the cooling system. The company offers a money-back guarantee.
SOLV-TEC, www.solv-tec.com, (888) 254-0150

Trailer tire
The B197 tread combines compounding and a classic straight-rib design for long life. Tire tread depth is 11/32-inch, and the tire fits most casings, 210mm, 220mm and 230mm.
Bridgestone, www.bridgestone.com, (800) 367-3872

Keyless trailer lock
This lock uses an encrypted pulse technology to provide lock access control and an audit trail that helps detect tampering and theft. The lock mounts on the inside of the door. The battery-powered lock mounts on nearly any surface, the company says.
MASTER LOCK, www.pulsecodelock.com, (800) 464-2088