Reduce cost per mile and increase payload by choosing lightweight materials that don't compromise durability. And don't forget features that will help at resale.
Factors like maintenance expenses, longevity and handling ease play vital roles in getting what you want in a trailer. You won't realize low cost-per-mile if your trailer breaks down, is expensive to maintain or can't handle your type of loads well.
Knowing definitively what you intend to transport, where you plan to work and how long you intend to keep the equipment will help you balance price with projected maintenance costs. Smart choices will keep your operating costs low and your resale value high.
Know your application
At spec'ing's core is understanding your application, says Jerry Richardson, product specialist at Wabash National. For example:
• Hauling heavy-footprint products, like paper rolls, requires higher floor ratings.
• Applications with additional equipment, like automotive racks, require interior designs that protect the trailer from damage during loading and unloading.
• Loading cycles can vary greatly – from weekly to multiple daily loads. The greater the frequency, the faster the equipment wears.
Dan Giles, director of engineering for Fontaine Trailer Co., recommends you consider your trailer's versatility, spec'ing the size, model, style and axle and suspension configuration so you can run the trailer in several states, as well as in Canada.
For example, if you intend to haul in California, you should be aware of laws that involve trailers. California is the only state that has an axle spacing law that requires a distance from the king pin to the rear axle be 40 feet or less. In other states, 43 feet is typical. "We and other manufacturers build a 53-foot trailer with a 40-foot axle setting," Giles says.
Or you may want to consider spec'ing a sliding axle, Giles says. That will give your trailer the versatility to meet standards in California and other states.
Minimize maintenance
Spec premium quality for components, such as long-life brake linings, wide brakes, long-life wheel ends and seals, recommends Brian Buckham, program manager for Hendrickson Trailer Suspension Systems. "They tend to last longer and they don't break early," he says. Many operators "don't want to make the initial investment, but it usually pays off in reduced downtime."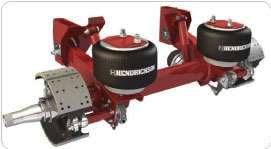 Controlling corrosion will also reduce maintenance worries. You're reducing cost per mile and maintenance costs by spec'ing special coatings that protect trailer parts, Buckham says. For example, some trailer manufacturers offer galvanizing to protect door frames, hinges and the entire sub-frame.
Spec'ing any system that eliminates wearable parts will minimize maintenance. Buckham gives the example of an early model air ride suspension that had a separate axle that was welded and attached with a U-bolt. Today, Hendrickson's Intraax suspension integrates the axle into the beam with no wearable parts on the axle connections.
"You can extend that philosophy to any system under or on the trailer," such as bushings, he says. Intraax has two bushings per suspension, four per trailer, compared with a mechanical spring suspension's four bushings per suspension, eight per trailer. Some air ride systems have eight bushings per suspension, 16 per trailer. "Any time you add a part, it can wear out and you have to perform maintenance on it," Buckham notes.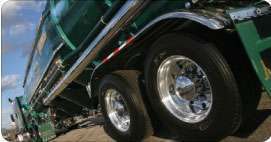 In reefers, a glass-reinforced thermoplastic liner can reduce maintenance expense, says Dave Gilliland, vice president of branch sales and operations for Great Dane Trailers. The high-end Thermoguard product seals the trailer's insulation and reduces "outgassing effects" that cause foam insulation to degrade. "It helps the trailer maintain excess cooling capacity, reduces operating costs because the reefer unit runs fewer hours and consumes less fuel, and increases the unit's productivity," he says. "It keeps the trailer thermally efficient for a longer period of time."
Similar premium products could include a puncture guard liner to protect the trailer interior against punctures, CorroGuard thermoplastic coating to apply to suspensions and landing gear, and a steel liner with a rigid backing instead of a plywood liner.
Reduce weight
Weight reduction helps operators who typically "load out" at 80,000 pounds because it means additional payload. It also helps those who usually "cube out" because every pound saved increases fuel-efficiency.
Lighter weight usually carries a higher price, but every pound saved on equipment means more potential payload. Furthermore, for every 300 pounds you eliminate, you gain 0.2 percent in fuel efficiency, Paccar says.
The biggest weight saver is spec'ing aluminum, which is also more corrosion-resistant than steel. Utility Trailer's Chuck Cole says for dry vans you can spec aluminum side posts and roof bows, while reefers are largely of aluminum construction. Reefers also offer more lightweight linings than in the past.
Jerry Richardson, product specialist at Wabash National, says aluminum can be substituted for steel in cross members that support the floor and for hardwood flooring. Aluminum rims can replace steel disc wheels.
"There's an inverse correlation between getting the weight out and cost," says Mark Kulyk, president of Rogers Bros. "You can change material from steel to aluminum that removes weight, but it drives up the cost dramatically."
Aluminum also has reduced durability and lesser strength, Gilliland notes, so you will have to protect the floor and walls more during loading and unloading. "For example, in a trailer floor, it has less carrying strength and doesn't last as long as a wood or composite floor," he says.
Match tires to the job
Choosing the right tires for the application will contribute to lower cost per mile and minimal maintenance costs. For example, for a regional application with lots of backing and turning into distribution centers and tight docks, the appropriate tires would have a deeper tread depth and a compound that's more resistant to scrubbing against curbs and other impediments.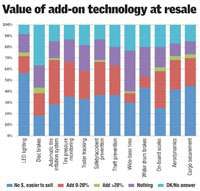 For long-haul, the better trailer tire is one that has a shallower tread depth and is more resistant to temperature buildup. "The pure over-the-road trailer tire is also better for fuel efficiency," says Don Baldwin, product category manager at Michelin.
In turn, for a tractor-trailer combination running long haul, more of the fuel efficiency will come from the trailer tires, Baldwin says. The trailer tires will have shallower tread depth and lower rolling resistance than drive tires, he adds.
One advantage of spec'ing wide-base singles on a trailer is the estimated savings of 800 pounds compared with duals, Baldwin says. "For many haulers, that's an additional pallet," he says. "Wide base works well because of the stability and shape of the contact patch."
Another potential benefit of wide singles is their superior cooling effect on trailer brakes. Baldwin says, "We've had reports from operators reducing their maintenance costs on trailers because brake life has been extended."
Optimize resale value
If you spec your trailer to fit your needs and you plan to hold on to it until it wears out, you don't need to worry about versatility. But spec'ing a trailer too closely to your application will limit its resale potential, says Fontaine Trailer's Dan Giles.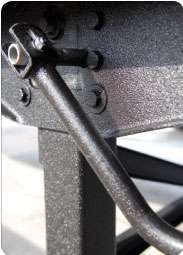 For example, a 45-foot trailer will attract fewer buyers and generate less trade-in value than 48-foot or 53-foot models. Consider these other specs:
AIR RIDE SUSPENSION. It will bring more at resale than a mechanical spring system because the trailer would be in better condition and have more versatility in what it can haul, says Hendrickson's Brian Buckham.
AIR-ASSISTED PIN PULL MECHANISMS. These devices on air suspensions enhance operation and potentially avoid back injuries when repositioning the tandem, says Ken Lang, of Arvin Meritor's North America Trailer Products Division. The company offers a PinLoc feature in which the locking pins' ends are angled to allow easier engagement in case you forget to relock the pins before taking off.
AUTOMATIC DOCKING CONTROL. This allows precise positioning as you drop the trailer.
DECK LOCK. This SureLok device maintains the deck's height for easier loading and unloading.
TRACK WIDTH. If you spec the standard track width of 77.5 inches, Buckham says, you could equip the trailer with standard duals or wide-base single tires using 2-inch outset wheels. On the other hand, if you spec an 83.5-inch track using zero outset wheels to accommodate super singles, buyers won't have the option to use duals.
KING PIN SETTING. Spec'ing a standard setting will appeal to more buyers than a customized setting.
STABILITY SYSTEMS. These are gaining in favor as a spec to improve handling, avoid rollovers and increase trailer longevity. Another benefit is protecting trailer door seals from premature wear from excessive roll, Lang says.
AUTOMATIC TIRE INFLATION SYSTEM. "Tire inflation is important to enhancing durability, increasing resale potential and reducing cost per mile," says Lang. "With the advent of wide-base singles, many are spec'ing automatic tire inflation devices." Utility Trailer's Chuck Cole notes that these systems also help improve cornering and overall handling. n
SmartWay add-ons focus on aerodynamics
For trailers, the U.S. Environmental Protection Agency's SmartWay program focuses mostly on aerodynamic technology that can be spec'd with new equipment or acquired as add-ons. These devices include gap reducers, boat tails, side skirts, end fairings and trailer skirts.  
Carrier Transicold, for example, offers AeroFlex, a trailer skirt for dry vans or reefers. The flexible plastic panels meet California Air Resources Board requirements for 2011 trailers and offer an SAE/TMC-verified fuel savings of 7.5 percent, although some fleets report even better results, says Jason Forman of CT.
However, trailer aero products cost from a few hundred to a few thousand dollars, and they add weight, require maintenance and may need replacement before the trailer does.
For more information, do an Internet search for "SmartWay Tractors & Trailers."