Through an industrious career as a leased owner-operator, dispatcher and small-fleet owner, Theresa DeSantis has been unwilling to part with a special 1985 Pete.
Even though her company had been sold and her authority had been lost Theresa DeSantis says she just couldn't bear to part with her truck. Even if she never drove it again, she says, and left it parked in her yard, "that would've been fine. At least I would've had something to fall back on."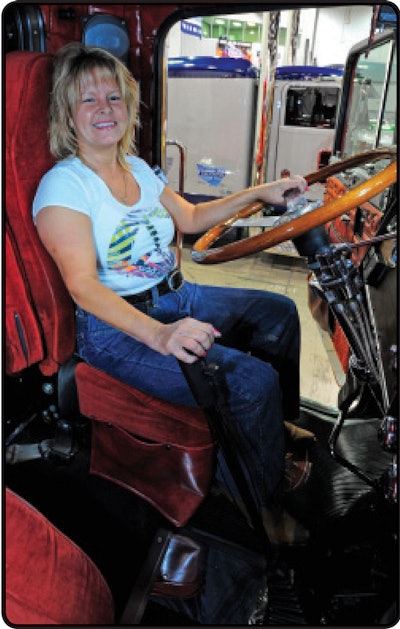 But after a year as an office manager and a dispatcher for Dart Trucking Inc. in1993, DeSantis put her 1985 Peterbilt 359 – Old No. 7 – back to work. "I didn't like working in an office," she says. "I went back to driving. It's just what I wanted to do."
She bought the truck new when she was 21, and the now 46-year-old DeSantis has driven it as an owner-operator ever since, other than her year as a dispatcher. After driving for Union Transit in Wilbraham, Mass., and Refiners Transport in Cleveland, she and her husband Dean applied for their own authority in 1987, using Old No. 7 as the cornerstone for what would eventually become a five-truck fleet owned and operated by the husband and wife team.
D.R. DeSantis Trucking Co. hauled lime, stone and coal nationwide, and after building the company for five years, DeSantis and her husband sold it to a larger company in 1993. She says Old No. 7 was the only piece of the company they kept.
Because it was her first and only truck, the sentimental ties were too strong to let it go. "I just couldn't see somebody else driving it," she says. "It was my truck."
DeSantis says only 250 Peterbilts were made with the red and orange color scheme in 1985. She had to wait nearly a month to have the truck delivered after ordering the two-tone paint scheme. "It was worth it. The colors are part of what make it so special."
DeSantis is leased to Clean Harbor Environmental Services, based in Norwell, Mass. She hauls hazardous materials such as flammables, oxidizers, corrosives and poisons, from Phoenix to Aragonite, Utah, and Deer Park, Texas. Between the sale of her company and leasing to Clean Harbor, DeSantis was leased to Columbiana, Ohio-based Dart Trucking.

Dean and Theresa grew up in Ware, Mass., where the two dated in high school. Dean lives and works in Indiana, and Theresa lives in Apache Junction, Ariz. "Whether one of us is at home or traveling or whatever, that's the way our marriage has always been," Theresa says. "It's just part of our lives."
Theresa says the two visit one another on weekends to spend time together and perform maintenance on Theresa's truck.
She says she and her husband try to tackle most maintenance issues in-house, doing all of the brake, tire, wiring and general chassis work. Owner-operators can't afford to outsource that type of work, she says, and "if you do not have a shop, tools or know-how, the deck maybe stacked against you."
DeSantis uses Quicken Books and Excel to track her expenses and develop plans to minimize costs. Because fuel is her largest expense, she says she tracks fuel costs on a per-load and per-quarter basis. She netted $30,000 in 2009.
"Steady work is what brings in money," she says. "Instead of waiting for big paying jobs – as long as you keep working each week you'll be successful."
Friend Debra Bermond says DeSantis' commitment makes her business and her reputation flourish.
"I don't think she sleeps," says
Bermond, a former DeSantis Trucking driver. "She's a perfectionist. She wants to be the best at what she does. She gets up at 3 o'clock in the morning and waxes her truck."
Robert Woods, DeSantis' dispatcher at Clean Harbor, says she takes a multifaceted approach to her operation and pays close attention to details in paperwork, load security and punctuality.
"She goes very much in depth into the various aspects of being a driver," Woods says. "She really has a lot of pride with what she's hauling down the road and wants to make a great impression."
Woods says DeSantis emphasizes having clean, quality equipment. She's restored her truck twice since buying it, refurbishing it to look exactly as it did when new.
DeSantis says she will drive Old No. 7 until the end of her career, after which, she says she'll convert the rig into a camper. "I'm going to put a big sleeper on it and have a camper that's already paid for. I'll just go across the country to visit family in New England and just travel – go around and get in truck drivers' way." n
Theresa DeSantis
1964 Born Jan. 28
1983 Married Dean R. DeSantis Oct. 22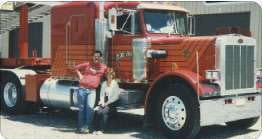 1985 Purchased Old No. 7, a 1985 Peterbilt 359
1987 Acquired own authority
1988 Started D.R. DeSantis Trucking Co.
1993 Sold D.R. DeSantis Trucking Co.
2002 Moved from Massachusetts to Arizona
2003 Leased to Clean Harbor Environmental
2009 Had Old No. 7 restored by Joplin Peterbilt
WATCH Theresa DeSantis at OverdriveOnline.com.
Trucker trivia
THE CLEANLINESS of her truck has prompted people to persuade her to enter truck beauty shows for years, DeSantis says. She finally participated in her first show in June, entering the Great West Truck Show's Pride & Polish, where she won First place in the First to Show category.
A HIGHWAY PATROL car stopped DeSantis in Nevada in June 1991. The officer told her she wasn't doing anything wrong, but he needed to check her license because he didn't think she was old enough to drive a truck. She was 27 at the time.