Big critters

How Alaskans get their grilles cleaned
Carlile Transportation driver Jim "J.D." Dobbs has seen lots of wildlife on Dalton Highway runs in Alaska to and from Prudhoe Bay. But an encounter this summer in a remote area topped other sightings. "There was this bear way out off the road, digging, and it was pretty excited about digging, so I pulled up there and stopped," Dobbs recalls. "Then the bear looked over and started straight toward us." It didn't stop before snacking on the bugs stuck in the grille of Dobbs' Kenworth.

12 big legs on 18 wheels
Cargo thieves in Quebec didn't waste much time dumping a truck and trailer they lifted while in transit to an Ontario zoo June 18. Just 25 miles from where the rig was stolen, the trailer was spotted. The truck was found a few miles down the road. Ron Petrie creatively reconstructed the scene in the Regina, Sask., Leader-Post: "Only when well down the road did [the thieves] feel safe to get out, check their hot cargo, and … WHOA! A caged cougar and two seriously deformed moose." The actual cargo – a tiger and pair of camels, missing for two days – were reported to be okay.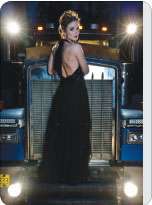 'Ice Road' star tackles Himalayas
"Ice Road Truckers" hauler Lisa Kelly is not only the "sexiest trucker alive," according to Esquire magazine. She's also a world traveler. Kelly spoke to writer Erik Price via satellite phone from the Himalayas, the world's tallest mountains, where it appears the next installment of the History Channel's trucking reality show was filmed. "We're hauling cement, water… sheep one time — just anything we can find," she said.

Big Cat draws many a mouse
Shortly after Rick Sylvester started trucking, he took on the "Big Cat Trucker" handle and launched a YouTube channel (YouTube.com/BigCatTrucker). Today, with more than 600 subscribers, episodes of his Big Cat Trucker Show have attracted up to 2,000 viewers. Shows range from how-to's (pre-trips in a winter storm) to on-highway cooking guides (gumbo). His popularity landed him a training role with his company, Swift, as well as this specially tricked-out office on wheels.  – James Jaillet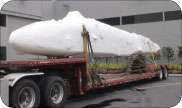 Had enough of tarping?
Imagine what an excavator on a lowboy might look like rolling down the road wrapped in the new custom forest green shade of shrink wrap offered by Fast Wrap. Mobile crews in more than 60 locations do the wraps. The material is recycled after collection in bags provided for receivers, who send the material back to Fast Wrap. Fast Wrap's Chris McMillan notes pretty much anything that can be put on a flatbed can be wrapped, such as the pictured jet engine. Visit fastwrapusa.com. n
For your daily dose of trucking humor, oddities and coverage in the media, visit: OverdriveOnline.com/channel19.
SEND US STUFF
Overdrive, 3200 Rice Mine Road N.E., Tuscaloosa, AL 35406, or e-mail tdills@rrpub.com.