Down to details

Dan Heister's meticulous planning and knack for truck mechanics boost his success.
If it has wheels, steel hauler Dan Heister says he can drive it, and he's never shied away from trying.
Reared on a grain farm in Iowa, he had plenty of equipment to toy with, and he was driving tractors and pickups before he knew how to ride a bicycle, he says.
He's also offered impromptu instruction where necessary. In the Army, he taught newcomers how to drive trucks and heavy equipment haulers despite his official role as a helicopter mechanic. In truck driving school in Tennessee, he spent more time helping the other students than he did studying his own materials.
So when it came time to turn his behind-the-wheel dexterity to a career, it was "an easy transition," says the 44-year-old owner-operator.
He's ridden his passion to success as an owner-operator, evident in more ways than one. In 2009, Heister received Boyd Bros.' One Million Safe Miles Award and was nominated for the Truckload Carriers Association Owner-Operator of the Year honor. In 2008, he netted more than $78,000.
Heister enlisted in the Army after he graduated high school. Growing up in a small town in Iowa, he says, jobs were at a premium, and "I was looking for adventure." He served from 1984 to 1995 as a helicopter mechanic. Heister repaired engines for nearly every type of rotary-wing craft the Army has, he says, including Blackhawk, Cobra and Apache helicopters.
Heister found his home in trucking less than a year after leaving the Army, when he became a company driver for Clanton, Ala.-based Boyd Bros. Transportation, where he's been ever since.
Over the years, he had the itch to purchase his own truck. "I'd talk about it several times a year, and my wife finally said, 'Buy one or shut up about it.'" When Boyd Bros. started the Boyd Independent Express for owner-operators, Heister decided that was his cue. He found his 2003 International 9400i south of Nashville in July 2006. He spent a week setting up his new truck, and the week after that he was back on the road as an owner-operator.
He says his years in the service taught him two traits he applies daily as he hauls cast iron pipe and steel tubing in the Southeast and Midwest: patience and planning. To maximize revenue, Heister puts more emphasis on a load's rate than its mileage, since he is paid on percentage of revenue. "Some of my best loads are less than 200 miles," he says.
To run a successful operation, Heister says, owner-operators have to plan well, budget for the unexpected and stay cool under pressure.
Heister is aggressive with preventive maintenance, says his mechanic, Birmingham, Ala.-based Southern Truck Center owner Tim Walker. "He keeps his eyes on the little things so they don't get out of hand," he says. Also, Heister "drives at speeds that optimize his fuel mileage."
"You have to be ready for the next breakdown or the next repair," Heister says. "You always have to plan, and you have to budget for maintenance and breakdowns." He says the same goes for choosing loads. "You can't slap something on and drive. You have to know what it's paying. You've got to plan."
Dispatcher Jim Davis says Heister's detailed approach to business helps him thrive.
"He sets himself up to be very efficient," Davis says. "He plans himself very well, and he's aware of how the business fluctuates." Davis says that Heister schedules time for possible setbacks, which helps set him apart from other owner-operators. "He's cognizant that no day is going to be a perfect day. His attention to detail and how he takes care of his business are what make him so successful." n
Trucker trivia
HEISTER LOVES old Fords. He keeps a '69 Thunderbird and two Torinos, a '73 and a '74, stowed for weekend ventures. The T-Bird is all original, and he's slowly restoring the Torinos. Heister's first car was a '73 Torino, he says, and he wouldn't mind passing the tradition to his son. "But we'll see how that works out," he says, laughing. "He's 12 now, so he may not be up for it in a few years."
A 35-INCH PONYTAIL draped down Heister's back after about eight years without getting his hair trimmed. While in the military, Heister says, he got tired of haircuts but didn't originally plan for it to get as long as it did. He chopped it off after his 20-year high school reunion in 2004.
Dan Heister
1965 Born Oct. 20
1984 Graduated from high school
1984 Married Tawni Moore
1984 Enlisted in U.S. Army
1990 Served in Desert Storm
1996 Started as company driver for Boyd Bros.
1997 Son, Jake, was born Oct. 14
2006 Purchased 2003 International 9400i
2009 Achieved 1 million safe miles
2009 Nominated for Truckload Carriers Association Owner-Operator of the Year
WATCH
Dan Heister at OverdriveOnline.com.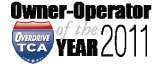 Nominations for 2011 Owner-Operator of the Year, hosted by Overdrive and the Truckload Carriers Association, are due by Aug. 15. Visit www.OverdriveOnline.com/oo to apply.