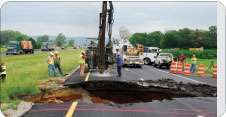 That's one heck of a pothole
A 25-foot-deep sinkhole on I-24 eastbound between Nashville and Chattanooga, Tenn., nearly swallowed up a tractor-trailer in May. A piece of the road broke off with the truck slightly over the edge, Tennessee DOT maintenance worker David Shelton told the Tennesseean newspaper: "He was able to jerk the wheel and get back up on the road." The driver wasn't hurt, though his rig was reported damaged. Officials noted recent flooding in the region could have contributed to the sinkhole.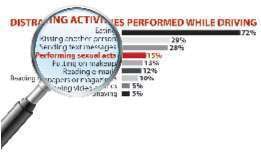 Three letters, rhymes with 'text'
Latest four-wheeler driving distraction: In late May, as Kansas became the 26th state to enact an anti-texting law applicable to all drivers, the folks at hands-free headset-maker Jabra released survey results that heated up the discussion of worrisome activities drivers engage behind the wheel. While 28 percent of the mostly four-wheeler respondents admitted to text-messaging while driving, 15 percent said they "performed sexual intercourse or other sexual acts" behind the wheel. If this behavior is truly that widespread, the drivers engaging in it surely aren't the only ones being distracted.
Social networking for ridealong pets
"No humans were harmed in the making of" the www.k9friends-united.com doggie social-networking website, says founder Diarmuid Scullin. The Irish long-hauler (pictured) started out with an off-the-wall idea: provide dog owners an online platform to give their dogs social possibilities. The 11 web designers he met with called him crazy, but try telling that to the "almost 1,500 members from 16 different countries," Scullin says, who take part in the online doggie network he put together on his own.

He's rockin' and really rollin'
Baldwin Distribution Services of Amarillo, Texas, launched its refrigerated operation in 1981 with five tractors and seven trailers. Today, Baldwin boasts more than a dozen times those numbers, and operates nationwide – perfect for country artist Brian Milson (pictured, with Baldwin President and CEO Dudley Baldwin), whose "Saltwater Cowboy" single is being promoted on many Baldwin vans. "We were founded on the idea that connecting with our customers and our drivers helps set us apart," says Baldwin. "What better way to do that than help spread the word about today's finest Texas talent."

Your photo could win
This photo, by Denver-based Swift Transportation driver Bill Kast of a hauler he met at a rest stop in Idaho and the driver's feathered passenger is one of many posted to The Photographer group site for truckers on Flickr.com (flickr.com/groups/truckersnews). Beginning this month, the group will hold monthly contests. The winning photo will be published in Overdrive's sister magazine Truckers News, which oversees the site, and the winning photographer will receive a photo book. For details, visit the group page, where you'll find info on the first contest theme: Junked Trucks/Trailers.
For your daily dose of trucking humor, oddities and coverage in the media, visit: OverdriveOnline.com/channel19.
SEND US STUFF
Overdrive, 3200 Rice Mine Road N.E., Tuscaloosa, AL 35406, or e-mail tdills@rrpub.com.