Remember the oft-described "good ol' days" of the 1970s? When truck drivers were portrayed by the movie stars of the day and lionized by the public as hardworking heroes of the American way? The image of drivers and public interest in trucking may never have been higher on this side of the pond, it's certain, and the recent success of some trucking-related television programs indicates at least that the interest is returning in a limited way here.
But in the U.K., if some reports are correct, there's a fever brewing for all things trucking. Public interest in freight companies from the English mainland to continental Europe is soaring via a hobby of sorts called "lorry spotting," similar to the "train spotting" activity of old. In the practice, trucking — or "haulage," as the Brits refer to their industry — enthusiasts log sightings of rigs on roadways in their area or make trips for the purpose of doing so elsewhere.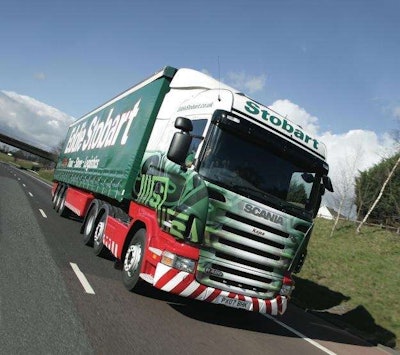 A recent BBC story on one of the primary drivers of the practice — a freight hauler founded by a small agricultural operator named Eddie Stobart who grew the carrier over a few decades into a 2,200-truck fleet — noted the phenomenon as being driven by the interest of the young. "Over the past couple of decades the distinctive green and red [Stobart] trucks — each bearing a different woman's name — have not only become a mainstay of British motorways, but sparked a spotting sensation," wrote the BBC's Vanessa Barford. "Among some people, mainly children, they gained a cult following — and there was even an animated TV series featuring them."
Spotting has caught on due not only to the distinctive personalities of Stobart's and others' rigs but, well, the existence of the Internet. See Lorryspotting.com. It's a hub for the activity, where users compete for the most logged spottings with the most detailed information. The development of truck make and model and carrier identification prowess is part of the fun, and for the Eddie Stobart company it's been nothing but good, it seems, likewise the U.K. trucking industry writ large.
Maybe there's a lesson here for some of the bigger U.S. carriers, who've in many cases long gone down a design path that sacrifices truck distinction/personality for sameness and reliability, with little design variation throughout the fleet. Maybe then truck spotting might come to the U.S.A.? While the recent in-roads the industry has made in the public imagination are good, by and large, a clear, interactive attraction for the kids would hold change potential over the next decades for trucking's image more so than any cable show ever could.
Read the BBC story in full for the U.K. example