His is a familiar face — to me, anyway. At MATS this week, Jerry Kissinger was named to Shell Rotella's new Million Mile Haul of Fame, introduced to honor drivers who respect their rig and its engine, and take pride in a job well done. Kissinger, owner-operator of a 1991 Mack Superliner, was honored as the first U.S. inductee. He has more than one million miles on his truck, all logged using Shell Rotella T heavy-duty oil in his engine. Kissinger was presented with a Haul of Fame leather bomber jacket, an engraved key chain and a certificate of achievement during a special ceremony in front of fellow truckers at MATS.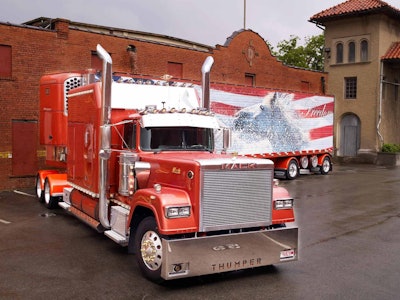 "Being the first person to become part of the Shell Rotella Million Mile Haul of Fame is a great honor," he said. "Shell Rotella has proven to me for many years that it can protect my engine and has helped keep me on the road doing what I love."
I met "Haul-of-Famer" Kissinger a few years back at the Louisville trucking show, where he was competing for the National Association of Show Trucks all-around trophy for their several shows, then the Truck-Lite Trophy. He placed a six-point second to Truett Novosad, but his Mack Superliner, a 1991 model, later that same year shared the top spot in two specialty categories in his first appearance at the Custom Rigs Pride & Polish event at Great American Trucking Show in Dallas. The Superliner also graced the pages of Custom Rigs in a brief article penned by yours truly.
Kissinger's 1991 Mack Superliner, with an E9 V8 that Mack quit making in the mid-'90s capable of more than 800 hp with the turbocharger, has come a long way since he bought the tractor in 1997. Then a construction jobsite daycab, it became something of a working project build for Kissinger. Doing the job off and on between his regular dairy runs with a reefer, he began the build by stretching the frame to 331 inches. The most significant addition, he says, was the sleeper, a custom box built by All-American out of Fort Worth in 1986 that an owner-operator contractor with his fleet had put on a former Mayflower truck. Kissinger paid $3,000 for it, hung it, then journeyed to ICT's headquarters in northern Indiana for the final interior working over, where they outfitted it with everything but the kitchen sink and shower. "Some things I guess we just have to do without," the Independent Operator Inc. small fleet owner told me in 2009.
The Wednesday-to-Sunday layover as ICT finished the job Kissinger spent on the rides at Cedar Point amusement park in Sandusky, Ohio. "I'm an adrenaline junky," he says, "a roller-coaster fanatic. Cedar Point had 11 or 12 of the fastest roller coasters in the country at that time." It's a pastime he enjoys almost as much as show-trucking for charity. "As many shows as I can do for charity, I try to do," he says, including the Big Iron Classic in Minnesota, where the entry fee is a toy that a charitable organization distributes at Christmastime (last year, Kissinger brought a pallet and a half full of gifts). Another favorite is the Waupun Truck-N-Show, which benefits the Make-A-Wish Foundation of Wisconsin.