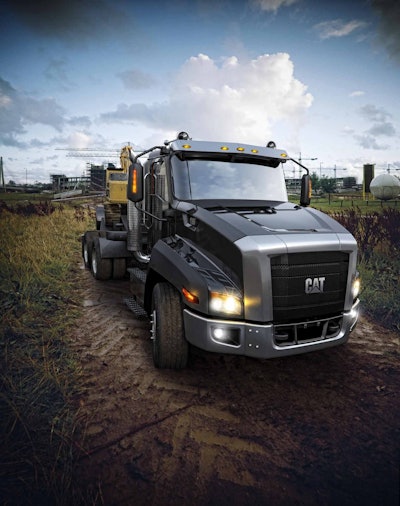 "No one knows heavy-duty like Caterpillar," says the official promo vid for the new Class 8 from Caterpillar, the CT660. Long-awaited in the wake of Cat's announcement that the company was getting out of the on-highway engine market, and entering the truck market, the new truck is here (pictured), built in partnership with Navistar.
For several separate video glimpses of it, including reactions from the show floor at ConExpo in Las Vegas, where it was officially introduced a couple weeks back, and more, check out this page on the Caterpillar website.
Looks nice, no? Anybody out there had the opportunity to drive one yet, by chance?
For severe service operators, I imagine this truck will fit all sorts of bills. And speaking of Severe Service, our quarterly supplement covering vocational owner-operators' needs is out, with new equipment covered (we couldn't get the Caterpillar truck in before the mag headed to print early this month, unfortunately), a test-drive of Navistar's tough Class 4-5 TerraStar work truck, an examination of vocational hybrids making their way in the market, a cost analysis of the life cycle of the classic severe-duty truck, the triaxle dump, and much more.
To check out the new issue in a digital edition, click the cover image below.