Making the wider world work to your particular advantage, whatever you choose that to mean, has always been the goal of the more ambitious among us — in today's world, the tools toward making that a reality are multiplicitous and downright confusing in the pace at which the written and unwritten rules for their use change, typically via automatic update or small shifts in what business types refer to as "best practices." As more and more of us get on Facebook, LinkedIn, Twitter and the plethora of other online communities and try things out, individuals are "becoming the media" every day, a phrase I'm reminded of every time I think hard about the potential social media holds for the individual in contemporary life. It's a phrase that, in the declarative (Become the Media), was the title of punk icon/left-wing activist Jello Briafra's 2000 spoken-word album and it's been used by Ron Paul in his efforts at bringing libertarian politics to the presidential realm. Taking hold of the reins of information at the individual level is the goal that unites the usage, regardless of the politics — and though many drivers are using available tools to good effect, in the trucking realm few are as far ahead as the husband-wife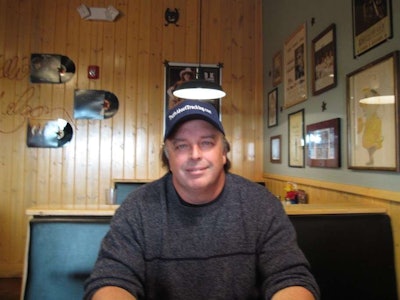 team of Allen (pictured) and Donna Smith. With a issues-advocacy-centered blog, AsktheTrucker.com, a related online talk-radio show exploring the issues covered in the blog and others in depth, and more Facebook fans than many a trucking magazine, the Smiths (even while Allen remains a fuel hauler in the Southeast) have set the bar for what's most definitely possible from the driver's perspective.
And now the two have launched a day's worth of meetings, panel discussions and presentations to bring together drivers and advocates committed to the issues important to the American driver. The 1st annual Truck Driver Social Media Convention happens Saturday, October 15, at the Gold Strike Resort and Casino in Tunica, Miss., just south of Memphis. Details are here. It's not a free event, but the modest $89 reservation fee gets you a complimentary breakfast and dinner, live entertainment by owner-operator team the Keys Truckers with Johnny Neel and Doug Jones of the Straight-Up Sounds studio here in Nashville (as well as others, including the duo of Barry Clark and David Ayers) and more well-informed discussion of driver issues than you can shake a stick at. Reserve before June 1 to ensure your seat (seats are limited to 550).
A list of the panelists and presenters follows.
Social media phenom Austin Walsh
Driver legal advocate Paul Taylor of the Truckers Justice Center
Trip Sheet Central's Eddie Giguchi
James McCormack of consultancy Trucking Careers of America
& regulatory expert Richard Wilson, of Trans Products