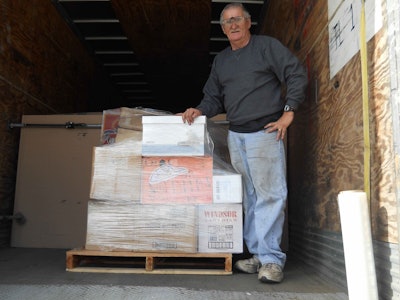 You will recall my story here about the genesis and progress of Marten Transport driver Candy Bass' "Hats for Heroes" program of providing an outlet for a wide array of trucking industry participants to honor the sacrifices of U.S. soldiers. Well, the past year's volume of hats was significant enough to require more than just a single load of donated hats for the wounded delivered. Owner-operator Brian Chute (pictured here), based in Kansas City, delivered that load a couple weeks ago now to the Fort Sam Houston, Texas, wounded warrior center.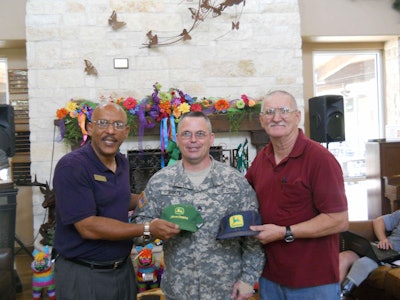 Chute, who hauls leased to Kansas-based three-truck fleet TransMaxx, heard "Candy Bass talking one day on the radio and telling about the caps that were up in Nebraska, and she was having trouble getting them out," he says. "I called Tim Ridley on the radio and told him we'll just just make it happen – it was one of those things that needed to be done."
Chute is former military himself. "I enlisted in 68," he says, "finished in 1975 active-duty" in the Air Force, "had a year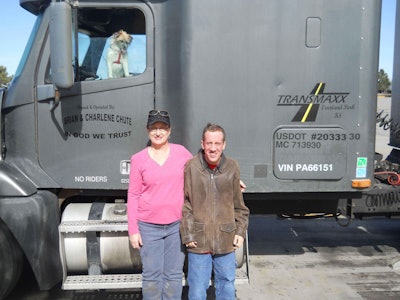 break, then a three-year break – with the Guard for year, then 13 more. I put in 21 years, 3 months and 12 days, but who's counting?"
Chute's run was from Grand Island, Neb., down to San Antonio. The Grand Island connection is to Kathy Siemon there, whose son Craig (both also pictured, with Chute's rig) is a Special Olympian and a prime force in gathering more than 1,500 donated hats this year. A story about the pair ran in the Nebraska Independent newspaper late last year, featuring owner-operator Howard Salmon when he picked up the first load.
As with Salmon's load, of which Conway Truckload driver Bill Compton drove the final leg, Chute got help from a larger carrier, too, he says. "Averitt has a terminal directly across the street – they were kind enough to allow us to park across the property to deliver the caps. They didn't have to do that – they could have said no, but they didn't."
And in the final analysis, Chute adds, "It was rewarding for me – It's really surprising how something as simple as a baseball cap can mean so much to people."
Read my prior "Exit Only" column about "Hats for Heroes" in Truckers News or the Channel 19 blog entry.