Last week when I wrote about my brief meet-up with expediters Phil and Diane Madsen, I mentioned the pair's assessment of updated showers at TravelCenters of American locations systemwide, with particularly high marks for the La Vergne, Tenn., location where we met. As I noted in that post, the improvements were begun last year, as TA Petro had noted them in June of last year publicly. I was curious about the genesis of the improvements and reached out to the company — turns out drivers led the effort. Here's what company Vice President of Marketing and Public Relations had to say about it all:
TA and Petro have always had a concerted effort to make improvements to the sites. However, about 18 months ago, we began doing this with a different process. We began engaging our customers to let us know what was needed and what is vitally important to them. What's different about this process is that it is far more direct. Through the Driver Council framework Tom O'Brien (our CEO) and his top managers meet regularly with drivers at our sites in order to get such feedback. Even though we had very good showers, we decided to raise the bar on hospitality. Some of the other improvements that came about as a result of these sessions:
introduced our driver Health & Wellness program StayFit [see my pics of a StayFit site in the newly revamped Nashville downtown location here]. This included 10 fitness rooms, 120 walking/running trail maps and healthier eating options in our restaurants and travel stores.
Introduced our new rewards program UltraOne (voted best by Overdrive readers three months after we launched)
Made CSA2010 materials available to drivers during a time last year when they badly needed information and training on the new regs.
The key here is that our process of driver engagement is permanent. We have a group of drivers who now assist on menu development. Our Driver Councils continue about ever 45-60 days. We never see this work as "done" because customer needs and requirements will never end.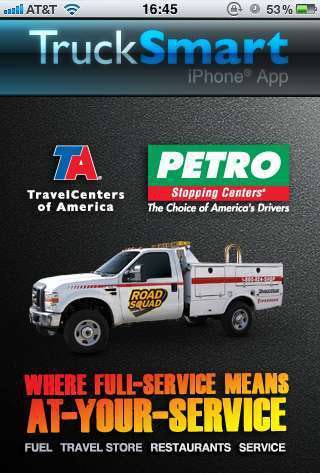 And, if you missed it news of it, TA/Petro's new TruckSmart iPhone app — Android to be launched May 1, iPhone already available — is a multifunction app providing quick interactive maps displaying nearby TA and Petro locations with turn-by-turn directions, current fuel prices, location list with current number of available showers and other amenities and estimates of available parking per stop, updated every two hours. An up-to-date listing of special offers at restaurants, travel stores and truck maintenance centers is also available.
Among other functions are also quick-push calls to RoadSquad mobile services. When called or linked, the RoadSquad national call center captures precise coordinates (latitude and longitude) of the downed trucker, providing RoadSquad precise dispatch capability. Regarding available parking data, TA believes the launch of TruckSmart represents the first time this kind of precise parking data has been made available to haulers. In June, says Liutkis, phase two of the app launches, integrating the UltraOne rewards program. Reward card members will be able to check points balance, access shower credits, review past transactions, review UltraExtras benefits achieved and call Customer Service, event reserve a shower using points or shower credits. When the shower is ready, an e-mail or text alert will go out.