Follow this link for the previous part in this series.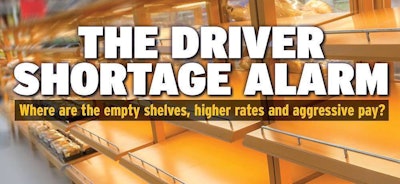 Thanks to detailed analyses following the first one in 2005 by the American Trucking Associations, the driver shortage has become a media staple. Local newspapers and television stations have developed stories on the topic, often stressing the job opportunity angle – and occasionally conjuring images of empty trucks and bare store shelves.
The shortage story's been heard in prominent places in recent months: the Wall Street Journal ("Trucking industry will need 890,000 new drivers in next decade"), National Public Radio and CNBC.
While ATA has played a key role in publicizing the issue, it has never "said or suggested that store shelves are empty or will be in the near future" as a result of any driver shortage, says Bob Costello, the group's senior vice president and chief economist. Instead, it issues forecasts "as a warning that if things don't change, that is how bad it could be. Instead, things will change, because trucking is too vital to the nation's economy."
ATA's 2015 report, quoted by the Wall Street Journal story, did invoke the specter of empty shelves, though it didn't predict when: "If the trend stays on course, there will likely be severe supply chain disruptions resulting in significant shipping delays, higher inventory carrying costs and perhaps shortages at stores."
Ron Hazel, traffic manager for manufacturer GEA, is one of those who perceived those early shortage reports as alarmist. Recalling the 2005-06 period following ATA's first commissioned study, Hazel likened it to the nationwide frenzy over a feared computer-systems meltdown that preceded the year 2000 (Y2K). "I call it the 'driver shortage hype', like the Y2K hype," he says.
"As long as a consumer is able to buy it, he really has to be skeptical that a shortage exists," says analyst Gordon Klemp, who himself has no doubt about the driver shortage's existence. "As long as he can buy corn every time he goes to the store, there may be a corn shortage, but not in his house."
[gtblockquote quote_text_style="normal"]Timeline | 2013 – Implementation of new limitations on drivers' use of the restart and a new break requirement in the hours of service rules begins.
As principal of the National Transportation Institute, longtime publisher of the National Survey of Driver Wages, Klemp routinely hears about fleets' recruitment efforts.
Even with demand forcing up rates in 2014 and 2015, "we're not at that point yet" where the supply chain will have visible problems, Klemp says. However, over the last year or so, the demand for labor "has been closer to creating a crisis."
Klemp points to drivers aging out of the workforce and too few replacing them. "The industry's done an amazing job of balancing supply and demand through technology and innovation, but there's a point where you can't innovate any longer."
[gtblockquote quote_text_style="normal"]Timeline | 2014 – A new e-log mandate proposal arrives early in the year, reviving concerns over driver exodus. Severe winter weather exposes tight capacity, driving up spot market rates and leading to income gains for independents. New restart limits put on hold at end of the year.
From Tennessee-based small fleet owner Cline Everhart's perspective, though, all the talk of a driver shortage isn't going to affect pay significantly until shippers can really feel it – at any price.
"Today, everybody's looking for a bargain when it gets slow," he says, referring to negotiations with customers over freight rates. "The message needs to get to the shippers, the people who are paying us. … When people's stuff stops getting there when it's supposed to be there, then it will change, but probably not until." –Max Heine contributed to this report.
[gtblockquote quote_text_style="normal"]Timeline | 2015 – Walmart's private fleet advertises $80,000-plus starting pay. TCA chairman says company drivers should earn at least $65,000. ATA estimates a 48,000-driver shortage by the end of the year, 175,000 by 2024.