Updated March 8, 2021, as part of Overdrive's 60th-anniversary series of lookbacks on the last six decades of trucking history.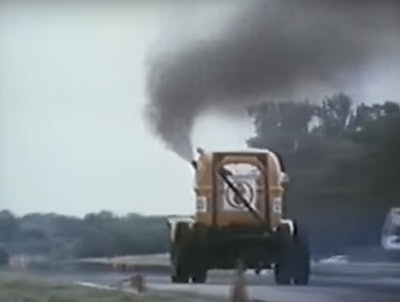 A note on Overdrive's Facebook page in 2016 from London, England-based Andy Harris caught the eye of Overdrive social-media coordinator Holley Young. With good reason — Harris posted a link to his own Facebook page, where he'd posted a YouTube video converted from film shot in the late 1970s, itself converted to VHS at some point in the 1980s.
"I've had it on video cassette for a long time," Harris said, "but I hadn't been able to get it digitalized." Finally, a friend offered to do it for him.
The results – well, see for yourself:
And yes, that's Overdrive founder Mike Parkhurst near the beginning of the short film, Harris says, detailing what was then the 3rd annual Trucker Championship drag races. They'd started in California, where Parkhurst was based, and were held on both coasts for a time.
What was a lifelong London resident doing filming at the event? "I liked America," said Harris. "I was doing a lot of traveling in America" at the time. "Hitchhiking, I got quite a few lifts in trucks. I was very interested in truck stops. And I thought the whole trucking culture was very interesting – even now I've got a whole load of trucking books and music, Red Sovine and loads of people like that."
He'd worked, he said, for trucking magazines in the U.K. at the time and loved trucking culture so much he opened a store called Trucker's Paradise in Central London, 35 years ago. "It wasn't the best place" for such a store, he said, but "people came and it became quite famous," regionally.
All in all, "I thought it would be great to make a film about [U.S.] trucking," he said. But when he turned up on the weekend the Englishtown, New Jersey, event was scheduled to take place, "it was a bit of a disaster, postponed for rain. We turned up with a camera, sound equipment and everything else but had to go back the week after. Even then, the weather wasn't brilliant. But all went ahead and was all good fun."
Harris had had plans to bring it all back to the U.K. and have it shown alongside a longer feature via a program for short, lower-budget movies in place at many U.K. cinemas at the time. It just never happened. It was "the first and last film I ever made," he says.
Today, Harris is well-known for his expertise on recreational vehicles in the U.K. (Find him as "Motorhome Andy" on Facebook here.) BBC2's Caravanner of the Year program, in concert with the Caravan Club, back several years ago made him what he called a "Z-list celebrity" with a laugh.
More seriously, he's well-known in the motor-home business there, operating an accessories business called Road Pro (unaffiliated with the U.S. brand of the same name) though Harris says he's been known to source products from the U.S. company. Find the company website at this link, though Harris noted products there that require electricity are built for 24v and/or 230v systems.
Speaking of way-back machines …
Also in May of 2016, Knox Transportation owner-operator Todd Campbell, with Kevin Young, set off on a tour across the country in two cabovers from Knoxville, Tennessee, en route to Salem, Oregon, via drops and pick-ups in Missouri, Oklahoma and Idaho for an ATHS National event happening the last week of May.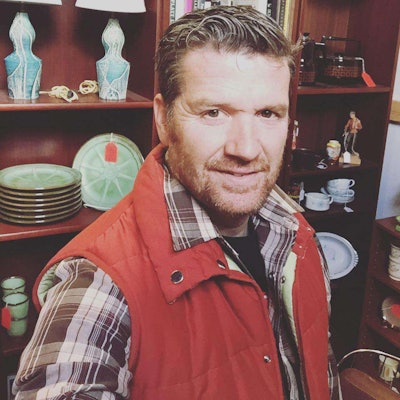 As then-Overdrive contributing writer Wendy Parker described what Campbell was calling the "Back in Time Tour" that year, Campbell drove his "Icy Red, a 95 Freightliner COE with a Series 60 Detroit. He retrofitted the exterior with '79 body panels and the interior with guts out of a 1981. He calls it a Frankenstein-like project, and having it sit on a modern drivetrain gives it a perfect blend of older and newer trucks.
"Kevin has his trusty yellow 1981 Freightliner COE with a Double "O" 92 Detroit Diesel. The back story on this truck is pretty incredible – Kevin found it, sitting in the desert, where it had been parked for 20 some years by the previous owner. He bought it, cleaned it up, and put it on the road with the original paint and interior."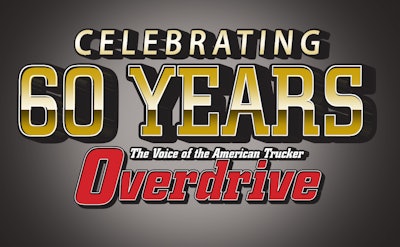 And the guys weren't only driving vintage trucks, they'd "acquired vintage wardrobes," Parker wrote, vowing to "seek out the old-style stops and cafes along the way."
After their pickup in Kansas City, they took the two-lanes all the way to Idaho. A few pictures from the haul follow, and you can read more about it from contemporaneous coverage of it from this links:
The "Back in Time Tour" 2016 kicks off
Scenes from the long road to Idaho