Updated April 5, 2021, on the occasion of Overdrive's ongoing 60th anniversary coverage.
The author of this 2017 story, Bill Ward of Delta Junction, Alaska, credited the erstwhile forums of the old "Hank's Truck Pictures" website for "the circumstances that allowed this story to be written," he says. While Ward wasn't around during the days of the early trucking pioneers, he's got a keen interest in those "early days, the 1940s and '50s when driving was a real challenge done by the toughest of men," evidence of which you could find in no small measure at the old Hank's Truck Pictures site. "It's become important to me to find ways to remember some of the early trucking pioneers who built this industry as owner-operators," Ward said at the time of the original writing. This story that follows from Ward is well representative of that mission. -Todd Dills
After knocking around driving as a beginner in the 1960s, doing more damage to clutches and gear teeth than I was worth, I finally landed a dream job with a fuel hauler in Bozeman, Montana. Up until then I'd hauled hay, grain, lumber, sheetrock, 100-lb. bags of cement, and the final insult, bone meal. Nothing stinks like cooked bone meal, and after you've unloaded 40,000 lbs. of what's left at the end of a slaughter plant, you do not get back into the truck, you walk to the nearest shower with clean clothes. A job where you can put on a pair of gloves, hook a hose to a camlock fitting, and turn a valve to unload is the perfect job.
My new boss, Gene Ballinger, was one of the true pioneers of trucking. He began his career in 1945 hauling fuel out of Billings, Mont. He bought his own truck and was leased to common carriers in the area. Even though his truck had the carrier's name on the door, Gene built a reputation for service, guaranteeing that the delivery accounts he served were loyal and would follow Gene wherever he worked. In those early days, trucks were powered by Cummins 220s or 250s and hauled maybe 5,000 gallons in steel tanks on narrow roads. There were no interstate highways, and it could take a long day to deliver fuel to a station a couple hundred miles away. Trucks were rough-riding, noisy, and tiring to drive. Gene bought his first new truck in 1957, a Kenworth 925 with a 250 Cummins, 5x4 transmission and Rockwell rear ends.
It was his pride and joy, he kept it in top condition, and it made him a good living. He hauled fuel all over Montana and Wyoming and was well-known and -liked by the trucking industry. He learned early that service, punctuality and honesty were hallmarks that made a strong business. When I started working for Gene in the late '60s he'd moved to Bozeman and hauled out of the pipeline terminal.
You may wonder how a greenhorn driver like me landed that dream job. It was a fluke, really. I had left resumés with all the carriers in Bozeman because I wanted to be based closer to home. Gene took mine, but didn't offer any encouragement and dropped it on his desk. Soon after that his longtime driver finally got tired of working Gene's 24/7 schedule and up and quit. Gene was left to haul all the loads himself. Gene's was a non-union company, while all the other bulk carriers were union. He wouldn't touch any of their drivers with a 10-foot pole.
He was desperate, and called me out of the blue to come in and talk with him. No cellphones then, of course, so he got hold of my wife, who chased me down at a truck stop in Helena where I'd laid over for the company I was driving for. She jumped into our Pontiac Grand Prix SJ and drove the 100 miles to pick me up in just over an hour. We raced back to Bozeman, and I caught Gene at the loading rack looking bleary-eyed and tired. We talked awhile (he'd already spoken to a few people who knew me), and he offered me the job.
"When do I start?" I said.
"Right now," he said. "Get in the truck."
He rode with me for a couple town deliveries, showing me the loading procedures and unloading locations, and then he turned me loose. I remember that he dozed off and slept as we were hauling to the stations. I was there at the right time and place. Gene paid and treated me very well over the years, and I became a loyal company man.
(You may wonder what happened to the truck I left in Helena that day. I called the dispatcher, made up some excuse, quit, and told him where the keys were. Later, I felt guilty and called the owner of the company, Dirk Irwin, at his home and apologized. The dispatcher hadn't told him about my stunt yet, so he took it well. Your reputation follows you wherever you go and it doesn't do any good to burn your bridges.)
I drove a 1966 Kenworth truck and pup with a 318 Detroit, 4×4 transmission, built as light as possible and capable of carrying 10,000 gallons. When times were busy, the truck ran round the clock, with me driving the day shift and Gene driving at night. During those times, Gene rarely slept. He would do paperwork and mechanic during the day and take over from me to haul loads at night. He was very adept at getting 15-minute cat naps over the steering wheel. During those years, Gene had sent his 1957 KW up to Shelby, Mont., to haul fuel along the Hi-Line on Highway 2. I would occasionally go up and spell off the driver and spend time driving the '57. Gene was a good boss and he treated my family very well.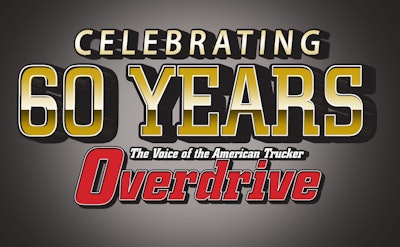 My family and I moved to Alaska in 1974, but we kept in touch with Gene. One of the last times we visited, he showed us a collection of trucking pictures he'd taken over his career. So when I got to looking at the collections in Hank's Truck Pictures, I decided to launch a quest to find and publish Gene's pictures. He died in the '90s, and I knew nothing other than having seen his obituary. Gene wasn't married, and didn't have any children, so I had no way of knowing where his belongings ended up.
I found and talked to his 92-year-old sister in Florida, to his nephew, too, but nobody knew what happened to the pictures.
I never have found the pictures, but along the way I stumbled onto the big prize. Just before he died, Gene sold his '57 KW to a friend in Montana named Don. I contacted Don and we stopped by his place one fall when we were driving through. We reminisced about the old days, Gene and his 1957 Kenworth.
Don told me the story that answers the question of how Gene's truck got its name, "Old Filthy." When Gene was driving his '57 KW around southern Montana he was a fanatic about keeping it clean and presentable. He would just say it was good business to maintain a professional appearance, but he was also proud of his equipment. He didn't believe in wasting money on excess chrome, but the truck was always clean and good-looking.
When Gene would come back from a trip during rainy or snowy weather, it would be covered with mud and road grime. Before he could get it washed his trucking buddies would tease him about just when was he going to clean his "filthy old truck." They knew he was serious about his truck, but couldn't resist harassing him. Well, the name stuck, and for many years on it was known as Old Filthy. At a truck stop when he'd walk in, it'd be "Hey Gene, when are you going to wash Old Filthy?"
The truck stayed clean and presentable when it went north, and I also spent many hours of my own time cleaning the '66 KW I drove.
I left my visit with Don and offhandedly told him that if he ever wanted to sell the truck, give me a call. Lo and behold, about six months later I get a call from Don asking me if I still wanted to buy it. He knew I greatly respected Gene's memory — he wanted the truck to be passed on to somebody who would take care of it.
I didn't have to think twice about it. In September of that year my wife, Marcia, and I drove our motor home to Montana from Alaska and I got in and drove the KW back. It was a laid-back trip — camping along the way, visiting with friends.
Owner-operator Gene Ballinger's 1957 Kenworth is now in my retirement fleet with 1,284,333 total miles. That doesn't mean it's totally retired. I have two- and three-axle pup trailers, and I periodically lease the truck for fire-control duties with the State of Alaska. While Don owned it, he added the new fuel tank, steps, and chrome exhaust but basically it's the same old truck I drove in the early '70s.
The engine is original except that it's been "souped-up" with a turbo making it an NH 270. Same transmission and rear ends, but a newer tank. It's still totally dependable and has passed the DOT inspections as required for fire duty. Loaded with water, I'm not fast, but I do get there. I'm just sorry I couldn't find those pictures of his to share with you.
I'm proud to have Gene Ballinger's truck and keep it up in his memory. I think he would be satisfied with my care of "Old Filthy" and proud that it's still working. – Bill Ward, Delta Junction, Alaska
Read more in Overdrive's 60th-anniversary series via this link.