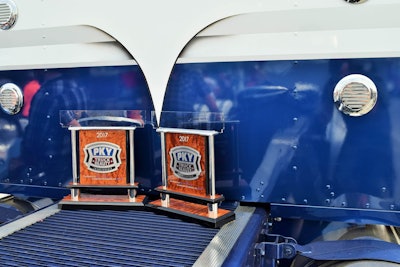 The shot above shows the airbrushed design on the back of owner-operator Jay Holsomback's 1996 Kenworth w900L, bolstered by a couple of significant trophies from the PKY Truck Beauty Championships at Mid-America last month. Regular readers will recall I wrote about the truck after catching it prominently parked up at the Guilty by Association Truck Show in Joplin at 4 State last September. The two PKY trophies, a third in Working Bobtail and second in Working Interior, OEM Sleeper, represent a milestone for Holsomback and his KW in its first showing at MATS.
The interior award is well-deserved if you ask me, given the big difference just a few months makes. Here's a shot of the cab roof from back in September: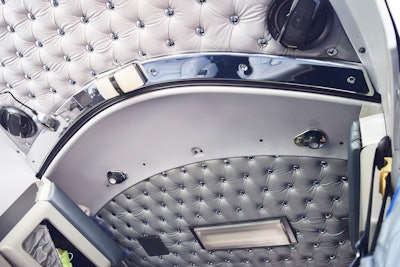 The button tuck looked great, but Holsomback wanted to take it further and, as he was contemplating new door panels to complete the look, he hooked up with a man with a lot of custom-car work in his background via a mutual friend in Brent Mitchell, who'd done a lot of the custom-fab work on Holsomback's KW. That man, Dalton, Ga.-based Aniceto Ocampo, with his son, Carlos, did a lot of the design work on the new interior, crafted primarily from easy-to-clean marine-grade vinyl, to bring the exterior paint scheme into the truck:
Ocampo and Holsomback worked on the interior together on weekends through most of February, as Holsomback spent the weeks hauling freight out of Fleet Movers Inc.'s Charleston, S.C., hub. Then he took off from the first week in March to make the push to finish things up in time for MATS near the end of the month. "It was a slow process," Holsomback says, hampered in part by weather as the two were working without the comforts of a roof over their heads. But it's a pretty well spectacular result, boosted by Ocampo's willingness to go an extra mile or two as a way to re-establish his own credentials in custom-vehicle work.
A couple things remain, Holsomback says. "We basically ran out of time on the floor – I'm looking to go with a painted floor" among other things. "That'll come with time. When you run the truck all the time, it's hard to take off time to do it."
You know that, of course.
Custom fabricator Brent Mitchell and Holsomback's close friends Daniel Jolliss and Jason West, both on hand at the truck show, were instrumental in prepping the unit for show. "I would never have been able to do it without them and really get it ready," Holsomback says. And get it ready they did, I'd say.
Run through further interior shots via the gallery below.