The following story was originally penned in 2016 by the most enthusiastic among trucking-culture enthusiasts, former "American Trucker" television series host and producer Robb Mariani, about a history-making event that year. It was updated slightly from its original form in June 2021 as part of Overdrive's 60th-anniversary celebration and its series of lookbacks at trucking history.
Contemporary trucking seems about a million miles away from what trucking was even a decade ago, much less 50 years or so. But on a day in 2016 in Lincolnton, North Carolina, the past met the present as vintage truck owners got together to fellowship and pay homage to the equipment of yesteryear, much of it still in hardworking order today. While that wasn't particularly unique – it happens all around the country at a myriad of truck shows all summer long every year – what was special about that September day in Lincolnton was that five of the most famous trucks of the 1970s appeared for the first time together atop a hill on small fleet owner Brad Wike's 45-acre farm, site of the annual Southern Classic Truck Show.
That "Hollywood Hill" made history of a kind, and transported those in attendance back to that seemingly far-off place, where the very mention of an ELD to a driver would have seemed as foreign as finding a Scania in the Schneider fleet. There we were in 2016, with time marching forward as inexorably as it is today – with the vast majority of modern trucks looking like an epidemic of inbreeding, and with good reason. Fuel economy and safety dominate the concerns of today's manufacturers. Most every hallmark of what made each truck manufacturer distinctive in the past (COE or conventional cab, fenders, breathers, grab rails, fuel tanks, etc.) are all but indistinguishable. Most every model is an aero-swept uni-truck. It had taken a short 20 to 30 years for the past "trucks-of-the-future" concepts to reach the new standard.
I grew up in the 1970s and '80s. I can recall traveling in my family's motor home all over these United States. My passion for semi trucks permeated every family member, especially when we hit the road. I started a game with my older brother back then — it quickly spread to the rest of my family on our long trips. I would be glued to the window, and as a truck on the opposite side of highway would come into the smallest of views on the horizon, I would process what brand and model truck it was. And as quickly as I would determine it — "K-100, double bunk!", "359 Pete, with a Kysor!" — the winner was determined ...
I won virtually every time — and for good reason, too, considering the advantage I had with my driver grandpa's subscription to Overdrive magazine. I had a comprehensive design database that I studied nearly every day of my life. Overdrive's "Tractor Dissection," "Tractor of the Month" or "Fleet of the Month" features were my study guide, not to mention "Model of the Month" — I built about every 1/25 scale semi model ever sold! Building those scale truck models with all of the details really rigged the game.
[Related: Trucking all in the family: Generations of owners leave lasting legacy in Overdrive]
Yet seeing hundreds of rigs rolling the interstates and stopping at countless 76 Truck Stops, my family got pretty astute. It was competitive and fun.
In the 1970s, trucking was a part of American pop culture. The CB craze was in full swing. In 1971, Steven Spielberg unleashed a menacing Peterbilt on the world with Duel. In 1974, Hollywood on-ramped Movin' On as a weekly TV series. You could get a real glimpse into the trucker's world as Sonny Pruitt and his co-driver Will Chandler took us into trucking with a then-prototype W925 VIT Kenworth. 1977 brought us Smokey & the Bandit, an absolute smash courtesy of the Snowman driving the Bandit's W900 KW. 1978 saw Convoy with the black Mack, the Rubber Duck.
By the end of the decade, NBC launched another truckin' TV series with BJ & the Bear.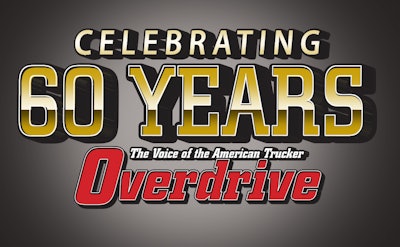 Playing my "guess the truck" game today really doesn't apply. There are only a handful of manufacturers left in the segment, and most trucks blend in to the next. There are no TV shows about the trucking industry like Movin' On. The only box-office truck has been a transformer — hardly depicting the modern day trucker and often thankless yet vital job truckers do for each of us 24/7.
All of the character of the golden age trucks is long gone, with the exception of truck collectors and all of the truck shows you can attend throughout the year — displaying vintage and customized trucks. Each truck show is like a time capsule into trucking of the past. Considering that my childhood love of trucking was the catalyst for me to create the American Trucker TV series, I have attended countless truck shows. There is no better truck show that I have ever attended — big or small — than Brad Wike's Southern Classic.
[Related: 'Bandit,' an unlikely hit movie when released, endures as a cult favorite]
Bias alert: Yes, it's true that Brad and I are close friends, but we got to be close friends because I was one of his many online fans from his "Brad's Classic Trucks" YouTube videos, depicting his restorations and general truck antics. I'm not going to say it's the best truck show on the planet without just cause. The proof is the show itself. You can find unrestored trucks at the Southern Classic. You can find fully restored trucks — from the 1930s, from the 1980s, and everything in between.
Vintage trucks either running or not running, new displays from Mack, Freightliner and Kenworth — custom rigs, working rigs, National Safety trucks from Wal-Mart, Ingles Foods, DOT displays, vintage farm tractors, kids' activities, vendors of all kinds — well over 300 trucks annually.
In 2016, the annual White Trucks "Bash" was held at the Southern Classic, and the event marked the 15th anniversary of the show. Brad and I wanted to make it "the one to see" — we wanted to make some trucking history!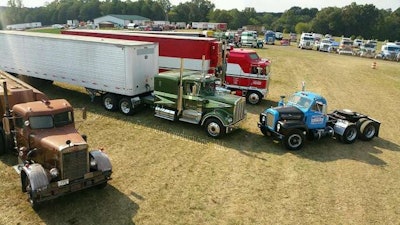 So we made countless calls, pulled strings and got sponsors, including Cobra Electronics, who supplied the cameras we used and helped offset fuel expenses for the trucks via donated items that were raffled off — key among a myriad other local sponsors of Brad's show itself. We managed to pull off something that has never before been seen – and might not be seen ever again. We wanted to gather five of the most famous, iconic film and TV semi trucks of all time at one gathering, and right next to each other, at that! Oh sure, you can now YouTube some episodes of B.J. and the Bear, find Smokey & the Bandit on DVD for $5 — the same with the Convoy and Duel movies. Movin' On was aired on Retro TV several years ago and is available via streaming vid. You can find vintage toys/models for all of them on Ebay. Fat chance you can run out and see the actual film/TV trucks in person, much less all five together. That is, unless you were lucky enough to attend the Southern Classic Truck Show that year.
Considering that each of the famous Hollywood rigs came to fame in their own era and years apart (in this case the 1970s), none of them ever have been seen together, so the Southern Classic Truck Show was where we felt it needed to happen. And happen it did!
The Southern Classic Truck Show takes place each year on Brad's private 45-acre farm in Lincolnton, N.C., just outside of Charlotte. There is a natural hill on the property that can be seen from any entry point. It has since been named "Hollywood Hill," as it is the place where five of the 1970s' most famous rigs converged for the first time ever — together. The past met the present. It started with Kenworth, Mack, and Peterbilt, then the Hollywood producers and transportation directors over 40 years ago. As time slipped away, so did each of the trucks that made impressions on millions of people who saw the TV shows and films. Years turned to decades, and each truck took a different road. Countless dollars and hours were spent tracking down, securing, or re-creating whatever it took to resurrect the lost Hollywood rigs.
Previous Duel Peterbilt owners Neil Lossaso and Dan Bruno, current owner Brad Wike (also owner of the Bandit KW, the only replica in the Hollywood Hill bunch), previous Movin' On Kenworth owner Kerry Hoberg, then-current owners Paul Sagehorn and Craig Sagehorn (also owners of the B.J. & the Bear Kenworth), and then-newest club member Anthony Fox with the Convoy Mack … all have played their parts in preserving five of the most famous semi trucks of all time. They have ensured that people like me and you and an entire new generation will be able to admire each truck long into the future. They may have been props for Hollywood and made famous to millions, but they were each once state-of-the-art trucks, designed with a purpose that was never meant for fame – but for commercial service. They were built to be anonymous – seems ironic, as they are now all iconic.
[Related: Way-back machine: Never-before-seen footage from Overdrive's 1970s diesel drag races]