When I wrote about the new "American Trucker" TV series, premiering tonight on the Speed Channel, I mentioned their sample episode, in which host Robb Mariani runs through the build/restoration process on Paul Sagehorn's original "B.J. & the Bear" Kenworth K100 and matching trailer, and included a photo of Paul with his other, 1984 Kenworth K100 painted as a replica of the B.J. tractor and used in his owner-operator business. I'd taken the picture in 2008 when I visited with Sagehorn at his place in Wisconsin while doing my own reporting on the truck.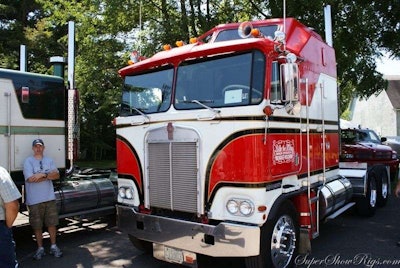 Chris Andreychik of Higher Power Transport in Eastern Pennsylvana saw the post and wrote me yesterday with a "minor correction," as he called it. "As of August 2008," as he says, "I am the proud owner of Paul's 1984 K100 Aerodyne B.J. and the Bear replica," pictured in its current state.
The truck, used hard over its many years of service, needed more than a once-over, and Andreychik is giving it the goods. "It is currently undergoing a restoration, and it is extensive. We have pulled everything off the frame rails from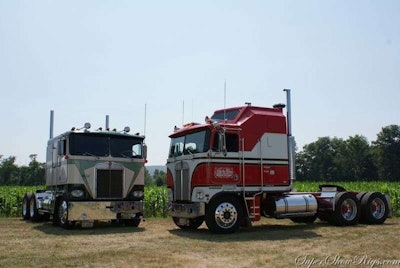 the back of the cab to the end of the rails, replacing broken crossmembers, broken gussets, and anything else that was rusted, corroded, or missing. We did it just in time. Had the truck stayed on the road for another year, especially in the northeast, we probably would have had to re-rail the truck entirely."
The pictures here, courtesy of Andreychik and SuperShowRigs.com, were taken at the 8th annual Spencer's Chrome Parts and Service Show, in Watsontown, Pa., on July 11, 2010. "It is quite a show," says Andreychik, "a 'sleeper,' if you will…. You'd be hard-pressed to find so many currently-working 'A' model W9 Kenworths in one spot. The Spencer family are some of the most down-to-earth, good folk you ever would want to meet, and the show has none of the 'best of this', 'best of that', or a trophy for 'the most bling on a truck'-type atmosphere. It is extremely laid back, just a bunch of people who love old-school trucking and want to talk trucks with one another and enjoy a day showing their rides to fellow truckers. There is only one award given — 'best truck' — and that is picked by the truckers who show up."
Correcting the record, as it were, and a good opportunity for a reminder about the premiere of the "American Trucker" series tonight. 10 and 10:30 ET on the Speed Channel.