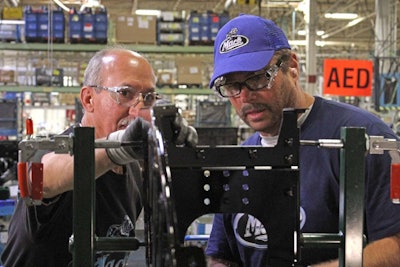 This past Sunday, as we wrote here last week, Mack Trucks CEO Denny Slagle appeared on the popular CBS show Undercover Boss disguised in a mustache, cap, and toupee. Slagle (pictured, right) struggled to install front covers straight on 11-liter engines at the Hagerstown, Md., engine plant, took corners too fast driving a high-lifting fork truck while picking parts at a parts distribution facility near Baltimore, and managed to put a small nick in an aluminum bumper while helping with final assembly of a Mack tractor at the Macungie assembly plant.
Throughout the episode, Slagle acted the part of a former independent home improvement contractor in a bid for a job at a Mack plant. The cover story was that he was competing with a woman applicant in a reality TV show and the winner of the contest would get the job. In an embarrassing turn of events, the woman fared better than he did at getting the work done effectively and in a timely manner.
Slagle was treated well and persisted in attempting to learn each job. His cohort in Macungie warmed to him and during their hour lunch break took him to see his prized collection—a garage full of antique Mack tractors.
Mack CEO Slagle showed his human side throughout the episode, displaying genuine interest in the doubts, morale concerns, and personal tragedies and triumphs of his plant workers. At the end, each of the employees he trained with was invited to meet him at Mack World Headquarters in Greensboro, N.C., where his identity was revealed. Each was awarded $5,000 by the company for a purpose relevant to their happiness. The lady who worked in Hagerstown received dollars for a major reunion with her family near Winnsboro, N.C., where she had moved from to work in Hagerstown after the Winnsboro plant was closed. The employees in the Baltimore facility will be having a town meeting at which Slagle will dispel rumors and myths about a move to Mexico that are lowering morale, while the plant worker who trained him will be receiving his financial award as a donation in his name to his favorite kids' sports team. The worker in Macungie will receive his award as a donation in his name to a charity that supports research into a genetic disease that threatens the lives of his two grandchildren.
In the end, Slagle showed that a CEO who has made tough decisions to keep his company thriving can also have a heart and is genuinely concerned about what happens on the factory floor. As the episode ended, it was clear Slagle is now far more aware than he was of how challenging even the lower level jobs are in a truck manufacturing company, and of how many of his workers suffer in silence because of the personal problems so many of us have in our lives. –This report by John Baxter