Mack prez works from the trenches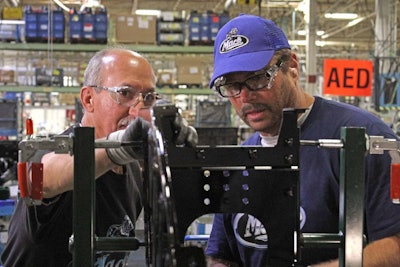 Class 8 trucks come to CBS reality-TV series Undercover Boss this weekend, featuring Mack Trucks President & CEO Denny Slagle. The broadcast will be from 9-10 p.m. Sunday, Feb. 20, Eastern and Pacific. In making the episode, as with others in the series, the company president went undercover to work side-by-side with Mack employees at the Macungie, Pa., plant that assembles every Mack truck sold in North America; the Hagerstown, Md., plant that produces every Mack engine sold in North America; and the Baltimore, Md., distribution center that provides parts to Mack dealers and customers. Here he's pictured (right) working on "the mount for the DEF tank that supplies our Mack ClearTech SCR system," says Mack spokesman John Walsh.
"I came away from this experience with a deeper understanding of the challenges faced by our front-line employees," Slagle said. "Mack people live up to the brand's reputation – they're tough, genuine, dedicated, and reliable. The future truly is bright for this 111-year-old American icon."
According to CBS, Undercover Boss debuted to 38.7 million viewers, the biggest new series premiere since 1987. The Emmy-nominated show was the No. 1 new series of the 2009-10 season, and continues to be among the most popular programs this season. Each week, Undercover Boss follows a different executive as they leave the comfort of their corner office for an undercover mission to examine the inner workings of their companies. While working alongside their employees, they see the effects that their decisions have on others, where the problems lie within their organizations and get an up-close look at both the good and the bad while discovering the unsung heroes who make their companies run.
Find Undercover Boss online if you miss the broadcast; typically, it looks like they offer past shows there shortly after airing.
Overdrive editor talks history Thursday


And tune into Allen and Donna Smith's "Truth About Trucking" online radio show Thursday at 7 p.m. ET for a tour with my Overdrive colleague Lucinda Coulter through 50 years of trucking history with OD, which is celebrating its 50th anniversary this year. Managing editor Coulter's been sharing high points from the magazine's history via a blog and a website both launched last fall — the Overdrive Retro blog and OverdriveRetro.com — and she's looking forward to hearing your perspective on where trucking has come and gone over those long years.