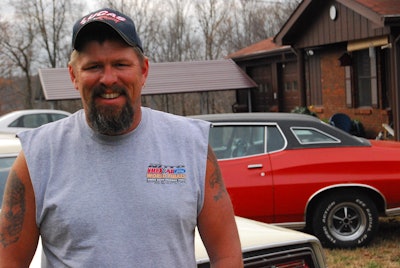 In this month's issue of Overdrive, I wrote about the recession-surviving prowess of Boyd Bros.-leased owner-operator Dan Heister (pictured), whose mastery of his short-medium haul niche in Boyd's self-dispatch/percentage-pay Independent Express program brought him through the really bad times in 2008 to ever-greater success this year. In addition to recently purchasing what amounts to a small farm in Erin, Tenn., where he'll move the family later this year, he's Overdrive's 2011 Trucker of the Year, and If you're a regular reader, it's likely you noticed the story — hard to miss Heister with his 2003 International and trailer of choice, a flatbed, on the cover.
One thing about him that didn't make the story, his wife Tawn initially told me well after the February issue was put to bed, is that his grandfather Bill Baker preceded him in over-the-road driving. "He used to haul cars coast to coast in the 1950s," says Dan, "well before I was born. I had some pictures of his truck — a big behemoth of a thing. By the time I remember my grandpa, he ran a service station."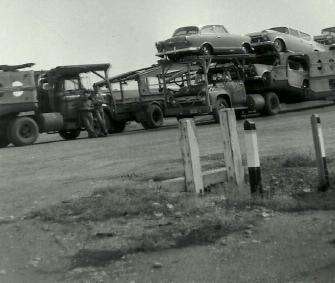 All the same, the Heisters have some treasured old pics of GrandPa Bill with his car hauler (pictured), and Tawn credits Bill Baker in part for Dan's work ethic, a large driver of his success. Bill Baker "taught him a good work ethic," Tawn says. "His grandfather was one of those men that everyone admired. He learned a lot from him — you keep your word, you do what you're supposed to."
Following find my vid interview with Heister, where he takes viewers on a mini-tour through his trucking career and showcases some pretty awesome late-60s/early-70s Ford autos he keeps at his home in Erin, Tenn. I spent a day with Dan and his son, Jake, in December out at their place, where I shot the vid. Give it a view-through below. A gallery of photos of Dan, his son Jake and Dan's International follow the vid.
Read the February Overdrive cover story in a digital edition.
[kaltura-widget wid="ytwx1kkabw" width="400″ height="365″ addpermission="" editpermission="" /]
[imagebrowser id=14]