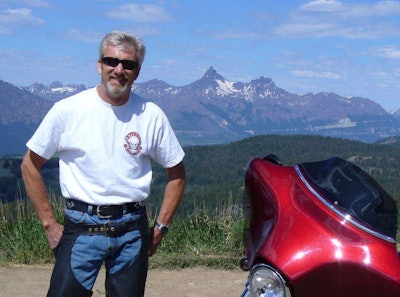 "I've been doing this a long time, 30 years," says owner-operator John Crozman (pictured) of his long trucking career, for the past two years leased to Albertville, Minn.-based Long Haul Trucking. Over those three decades, like so many haulers, he's seen his fair share of on-highway rescue action. "It's not a problem. You come upon accidents and try to maybe help somebody out. I think all truckers have all been in this situation. We've all been there and done that."
Living and operating often in the upper Midwest, he says, "I've helped folks before from a blizzard."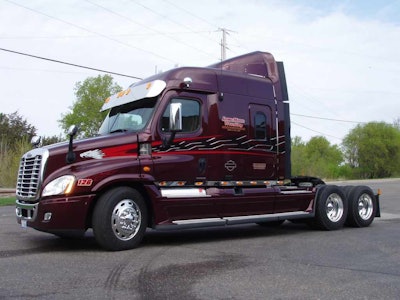 But the night of Feb. 3 would turn out differently. Crozman was on something of a routine haul in his 2009 Freightliner Cascadia (pictured) northbound on I-29 in South Dakota when he neared the top of a ridge north of Summit, S.D., he calls "the Bermuda Triangle of South Dakota" when it comes to weather, says Crozman. "You never know what the weather will do."
And that's never more the case than in winter. This particular evening, winds with gusts of an estimated 50 mph blew up drifts of recent dry, heavy snow that had fallen throughout the region, creating dangerous ground blizzard conditions. Crozman could see well enough from the height of his Cascadia, but prudence with regard to the travelers around him led to pull off at what he describes as a ramp that climbs to a rest and refuge area "well off the interstate," at exit 213.
Crozman, seeing large snowdrifts blocking some sections of the ramp, as well as at least one other vehicle parked on the ramp, stopped to wait out the worst of the storm. As he sat, between "breaks in the snow blowing," he says, "I noticed another car out there" and thought he could see a light intermittently through the vehicle's windows.
Inside the car, Thomas and Mary Lynne Fischer had been trapped for more than four hours. The two retired teachers, residents of Winnipeg, Manitoba, were on their way back north from a cycling vacation in Arizona when they were caught in the whiteout conditions on I-29. Given the high winds, and wind chill estimates in the neighborhood of -60 degrees Fahrenheit, snow had begun plugging the vehicle's air filter and the two were huddled around a small candle, a sleeping bag draped across them, for what little warmth it provided.
Soon enough, their savior would arrive. "They were sure glad to see me," says Crozman. Crozman, in a snow suit and fighting against the wind gusts and snow drifts that were packed hard as concrete, managed to get the Fischers to his Cascadia, where they sat for a time warming up before he noticed the blowing snow impacting his own air filtration systems and decided to move back southbound to the Coffee Cup Truckstop in Summit. There, the three warmed up indoors and talked before settling in for the night in each of the Cascadia's double bunks.
Crozman "didn't tell anybody about that for a day. The next day I didn't even think about it" but to tell his wife he'd had a couple roommates from Canada the previous night.
But as several days went by and he returned home to Blackhawk after his runs, a bombshell awaited.
"We are writing to advise you of a situation of heroic proportions that occurred on the evening of February 3rd, 2011," the Fischers had posted to John Daniels, CEO of Long Haul Trucking. In the letter, they detailed the entire episode. "We have always had the utmost respect for those individuals involved in the trucking industry," they wrote, "and now we owe our lives to one of them. John is a humble man who did not want us to make a fuss over him, however, we know that we must relay this information and have him receive the recognition he deserves. John is a fine man – he is our hero and we will never forget what he did for us on that frigid night on I-29. John speaks very highly of the company he represents and of the individuals with whom he works."
Crozman was the subject of a feature in the Minneapolis Star-Tribune. A longtime member of the Owner-Operator Independent Driver's Association, Crozman was called onto the Land Line Now radio show with host Reed Black.
As other news of Crozman's deed got out, its positive repercussions continued. "When I got home the other day," he told me yesterday, two weeks after the event, "I had a card in the mail from a doctor in Minneapolis. He sent me a card and a check for $50 to take my wife out to eat" as thank-you for looking out for others, pure and simple.
Small things, but hugely appreciated by the long-hauler, who's been busy with thank-you cards.
"So many times we hear the negative side of the industry, and the industry is a tough one to be in," says Long Haul's safety director, Mark Theis. "We had to make sure that [Crozman's] story was told. Drivers are often looked at by the public as a 80,000-lb. monster with a license to kill. But there are largely good people in this industry all over, and we're proud to have the ones that are representing them out there."
I-29 through the Summit area remained close for much of the next day, Crozman says, during which he made sure the Fischers were able to retrieve their vehicle before moving back on his route. "There were a couple hundred cars and trucks stuck up there at the rest area," he says, including a highway patrolman's car with the door blown off by the wind. "They brought one of those snowcats in with the big tracks and some great big snowblowers. I went around the back way – once I got to Minnesota, the roads were fine."