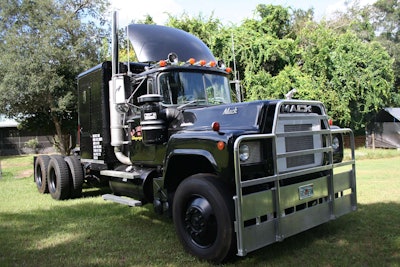 Robert Steele thinks so. Operating a fleet of three trucks, one of which he drives himself, out of St. Augustine, Fla., he's seen several direct accounts he's had with certain shippers run under by operators who are either getting two-three times his fuel mileage or (yes, most likely) don't know or don't care how much it costs to operate a truck and are content to run up and down the road with little to no profit. "Some of these guys," he says, "as long as they have a Big Mac to eat running up and down the road, they'll just keep doing what they're doing."
Then there's the competition from larger outfits. The rate on a decorative stone-hauling contract Steel had, shipper-direct freight, over the approximately 360 miles between Jacksonville and Pensacola in Florida, paid a solid $900 until recently. The shipper "changed up their dispatch and gave it to a lady in Tampa," Steele says. "When they did they opened up the freight rate to everybody nationwide," though Steele says his service was on-time every time."
Today, the rate they want on the load is a mere $560, or about $1.56 a mile. "And people pull it, that's the bad part." Steele adds. "Right now, with the amount of freight out there, it should be the truckers' market to set the rates, but it's not." Quality of service, he adds, doesn't seem to matter.
Contrary to what the analysts say about the wider economic conditions and the trucking market, which all seem to point to a boost in rates and pay, as we've recently reported, Steele says a cutthroat dynamic remains the rule of the day and getting a fair rate for very long in such conditions is increasingly a difficult prospect.
Independent reefer and hopper bottom hauler Cody Blankenship, based in Waco, Texas, responding to news of FMCSA's shutdown of a Laredo, Texas-based hauler who routinely flouted hours regs, echoed Steel when he said there were "many more that need to park. Running illegal means they're running cheap and doing volume. If this riff-raff would stop there would be a better class of truckers with all the benefits of fair pay and less hassle from the DOT. These types of carriers are the cause of the regs coming down the pike at a breakneck pace…."
In this light, could more robust new entrant requirements and FMCSA's focused attention on shutting down scofflaw carriers be considered quite a good thing?
Independents, what have you seen on rates in your operation the past several months?