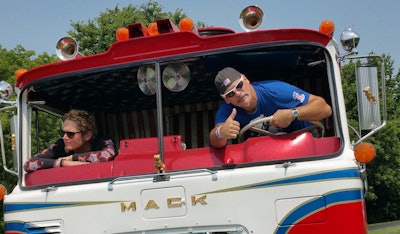 It's been quite a ride for the Mack cabover pictured above, with current owner Lathan McKay (left) and a man Overdrive readers will be more familiar with. Pictured right is Robb Mariani, former host of the "American Trucker" television show on the Speed Channel that delivered on its promise to explore U.S. trucking from ground level some years back.
The rig itself is one longtime readers will remember as well — Evel Knievel's 1974 Mack FS700L cabover, rescued from weeds and general dereliction in a yard in Clearwater, Fla., a story told in the "Finding Evel" episode of American Trucker. We caught up with Mariani on the phone from Kansas, where the rig is now entering the final process of a long restoration by historic Harley Davidson in Topeka. If all goes according to plan, the rig is set to make its debut in a few short weeks at the Evel Knievel Days festival out in Butte, Mont., July 23-25. You can follow the fest via its Facebook page here. It'll also travel to the Buffalo Chip campground during the Sturgis Motorcycle Rally, Aug. 3-9 this year in South Dakota.
Needless to say, you can't see through the cab roof anymore.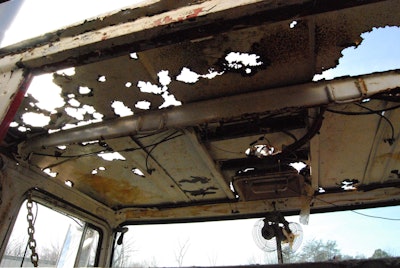 That photo comes from my own time in February 2012 with the truck out at the Lincolnton, N.C., shop of small fleet owner and Brad's Classic Trucks proprietor Brad Wike, which you can read about at this link and this link. (Find several videos from the time, including the "Finding Evel" episode of "American Trucker," at the bottom of this post.)
Mariani tells the history of what he calls, in trademark high-energy fashion, the "most important" piece of the collection of Evel Knievel memorabilia that actor McKay has amassed over the years. "It's the vehicle that he used to bring his show on the road" to the American people from a base in Butte, Mont., cementing his stature as the iconic American daredevil.
Mariani also details some of what he's been up to since debuting the "Low Patrol" Ford cabover hot-rod we got a good look at during last year's Pride & Polish event in Tennessee. Namely: A new TV series — "an esoteric exit off the regular highway … centered on big rigs and all the cool" that comes along with them. It's sort of like "'American Trucker' shot up on steroids," he says.
Interested? I know I am. Take a listen:
The Finding Evel episode of American Trucker:
[youtube sYkrJFsiiVg nolink]
Cracking Evel's safe:
[youtube K6PclPyyL7E nolink]
The haul rig rolls again — detail of early resto work:
[youtube MvoU0ShQPBA nolink]
Via this link, read an Overdrive interview with a past driver for Knievel as well as a 1973 archived interview with Knievel himself from the magazine.