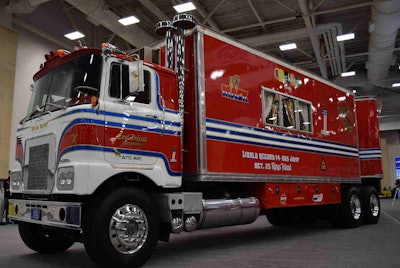 With the restoration of legendary daredevil Evel Knievel's classic 1974 Mack cabover haul rig and trailer complete, attendees of the Great American Trucking Show are all set to get a close look at the rig, complete with rig owner Lathan McKay's collection of Knievel memorabilia, including a couple of Knievel's Harley-Davidson motorcycles.
The story of the restoration was told in this piece from the Channel 19 blog as well as last week attendant to the rig's Hollywood appearance at the premiere of the "Being Evel" movie.
The rig is on display at the Mack Trucks booth at GATS. Catch a few sneak-peek pictures from the show floor before GATS opened this morning in the gallery below. GATS opens at noon at the Kay Bailey Hutchison Convention Center in Dallas and will run through Saturday, August 29.