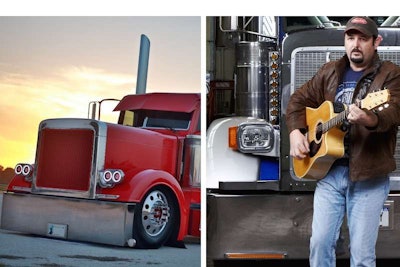 The 2015 edition of the Great American Trucking Show kicks off at noon on Thursday, and in addition to hundreds of trucking exhibits and supplier booths, the show will host the finale of the 2014-2015 Pride & Polish National Championship, Overdrive's Partners in Business seminars, the finale of Overdrive's Trucker Talent Search, a concert by country star John Anderson and much more.
Overdrive will be covering the show every step of the way, both online on OverdriveOnline.com and live on social media channels. We'll also include comprehensive coverage in Overdrive's daily newsletter. Click here to sign up to receive it.
Here's a rundown of how you can keep up with the show's happenings this week:
OverdriveOnline.com/gats2015 will be a one-stop shop for all things GATS. It will house all of Overdrive's coverage, along with a link to our GATS live blog and a Twitter feed of live coverage. The live blog will include links to all stories posted from GATS, along with photos, live tweets and more.
Facebook: Like Overdrive on Facebook to see highlights from the show and links to photo galleries and more.
Instagram: We'll be posting on Instagram (@OverdriveTrucking) photos of top Pride & Polish competitors and photos of all other happenings of note, including the John Anderson concert, video from the Trucker Talent Search competition and more.
Snapchat: Find Overdrive's newly created Snapchat account at the username OverdriveLive for daily photo and video updates from the show.
Twitter: For live Twitter coverage and photos, follow Overdrive on Twitter, @OverdriveUpdate. Also, follow Overdrive staffers for more in-depth Twitter coverage:
@Channel19Todd – Senior Editor Todd Dills
@truckingwithgnw – Blogger Wendy Parker
@trucknewsjj – News Editor James Jaillet
@maxheine – Editor Max Heine
@jackrobertsccj – Equipment Editor Jack Roberts
@mattcolerr – Associate Editor Matt Cole
And for a daily roundup of all of the sources above? Overdrive's daily newsletter. Click here to sign up.
Here's the basic show info:
Where: Kay Bailey Hutchison Convention Center (Dallas Convention Center)
When:
Thursday, August 27: Noon to 5 p.m.
Friday, August 28: 10 a.m. to 5 p.m.
Saturday, August 29: 10 a.m. to 5 p.m.
Register: Free online at GATSonline.com
Lodging: Hotel information at GATSonline.com
Parking: Free truck parking will be available across from the Dallas Convention Center