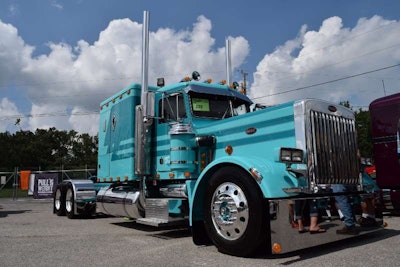 The custom 1985 Peterbilt 359 of perennial Pride & Polish champ Vinnie Diorio's Rollin' Transport fleet marks a bit of a departure in approach — it's an older unit, simply put. The bold colors and minimal stainless/chrome features of his Trend Settin' 2013 389, which took tops in one of the combo classes in the National Championship the last couple years, have been hallmarks of other Rollin' Transport rigs on the show circuit over the years.
The 359 is a different animal, though it combines both old- and new-school features for a tastefully nostalgic design overall — quite a working rig, I'll say. After qualifying for the National Championship round at Crossville in Tennessee, it's another rig that will be for sure on display at the Great American Trucking Show edition of Overdrive's Pride & Polish this week.
If you're in attendance, don't miss it! Run through some of its features in the photos below.