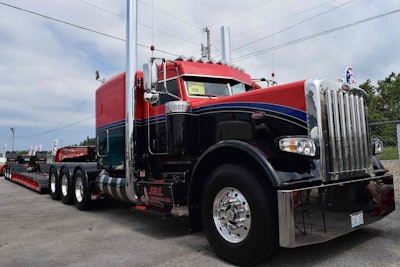 With voting in the bag in the Truckers' Choice portion of Overdrive's Pride & Polish National Championship, this is the first of three rigs I caught last month in the lens at the Tennessee edition of the truck beauty-show series I'll share this week. All three you'll see out at the Great American Trucking Show in Dallas this week if you're in attendance, and here's wishing the National Championship rigs and all other competitors the best for a solid outcome at the show.
This unit pictured above would be the second of Springfield, Mo.-based J&L Contracting that I've profiled within the month, a 2015 Peterbilt 389 — dubbed "Contender" — that you might be forgiven for thinking is a glider, says J&L head James Williams. Think again.
The Cummins-powered unit's DEF tank has gotten something of a peek-a-boo treatment as a compartment of the main driver-side fuel tank, fashioned from two tanks cut in half and mated, the DEF cap covered by a stainless tank strap: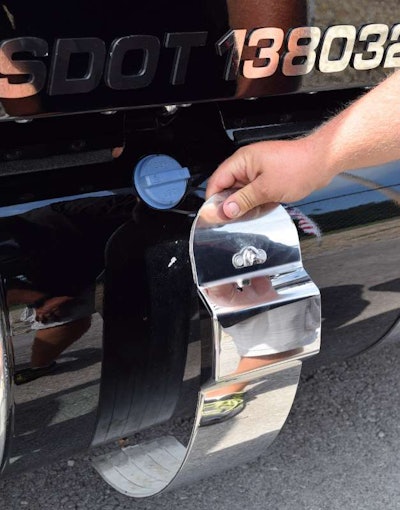 J&L got its start, Williams says, in 2005. "My father and I own a construction company and got into excavating," and hauling, "as a necessity." The fleet grew from there to where it is today, with 13 dumps and four semis that pull end dumps, 20 pulling flats and RGNs and with 50 trailers all told, including some custom heavy-haul trailers.
The unit behind Contender at the Crossville, Tenn., show was a Blackhawk RGN with plenty of custom features. Catch some of those in the gallery that follows.