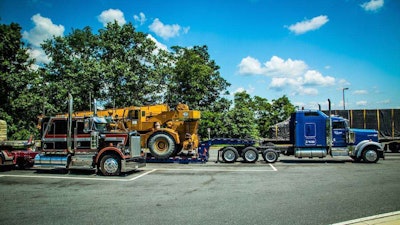 This blue 2000 Kenworth W900L is owned and operated by Livingston, Montana, resident Nick Richards, who uses the rig to haul heavy equipment and ag machinery for his Renegade Trucking Inc. The truck is pictured here at a rest area off of I-64 in Maryland, loaded with a Grove RT735 crane.
Richards says he started driving when he was 15, and after four years of service in the Navy, he became an owner-operator in 2003. This is the fourth truck he's owned. Richards also produces a YouTube-based show called Renegade Trucker. See Richards' episode from this particular load below.
Click here to see Overdrive's full Reader Rigs gallery or to submit a photo of your truck.
At the rest area next to Richards in the photo is a 1985 Kenworth W900B that Richards says is "owned by Tony at Red Top Trucking. Really nice guy — the truck has been in his family since it was bought new."
Richards' truck is powered by a 550-hp Cat and an 18-speed transmission.