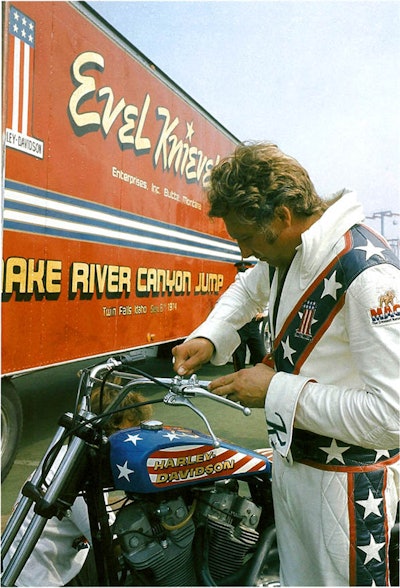 Wichita, Kan.-based medical equipment salesman Mike Draper, 59, has been doing his current work, traveling all over the state of Kansas in a four-wheeler, for around 16 years, he says, after many years working as an officer with the Wichita Sheriff's office. Before that, as a green 19-year-old working with Hugo Shea, owner of a series of Harley-Davidson dealerships around Oklahoma and Kansas, he lucked his way into the driving gig of a lifetime.
Daredevil Evel Knievel (pictured here around the time of his Snake River Canyon jump in 1974) had been driving his touring haul rig himself – with his wife and kids in tow – when Draper first met him at a promotional event at one of Shea's dealerships. "Shea had a Chevy Titan 90 semi that I drove," as well as another truck, says Draper, to move equipment and inventory around between dealerships and other locations.
Knievel asked Shea if he had someone who might be willing to drive the truck for him. Draper wasn't the only big-rig-capable hauler in the outfit, and ultimately Knievel got two drivers out of the deal, Draper and a man Draper taught to drive diesels himself, Lee Ratliff.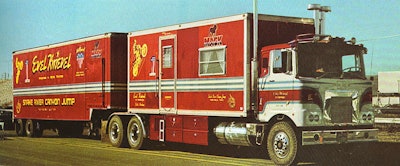 Draper and Ratliff are both mentioned in a story American Trucker TV show host Robb Mariani got wind of and which we dug up from the archive in Overdrive's Tuscaloosa, Ala., office. Download a pdf of the 1973 Overdrive interview with Knievel via this link, or click through the opening page image below.
The story reveals the man known for beating death in spite of the odds. Describing the then-in-planning "SkyCycle" steam rocket-on-wheels jump to Overdrive in 1973, Knievel had this to say: "I open the valve, let the water from the heater into the rocket, and when it drops from 500 [psi degrees] to 420, the engineer, Bob Truax, points at me. I'm looking right up the ramp over the canyon. I go at 350 miles an hour in eight seconds and hope like hell I get there. If I do, I drop down to both knees, grab a handful of dirt and thank God Almighty that I'm still alive. If I splat against the [canyon wall], I just get somewhere quicker where you're going someday and I'll wait for you. Dying is part of living."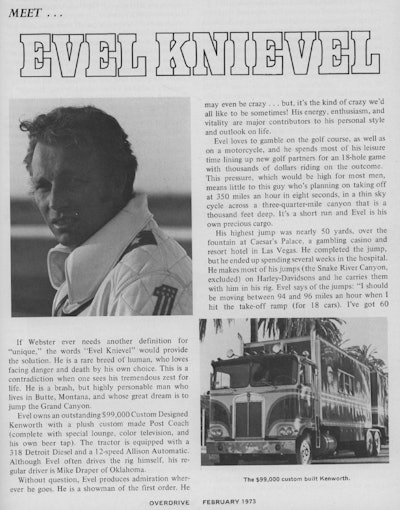 The daredevil had kind words for Draper and Ratliff in that story, too. In 1973, Knievel's Post Coach living quarters was mounted on and his new trailer toted by a custom-designed Kenworth cabover, which would be swapped for the Mack currently undergoing restoration late that year or early in 1974.
"Mike and Lee," Knievel told Overdrive in 1973 when asked about the drivers who kept up with the Kenworth's maintenance. "They're great guys. I never look at [the rig] because I know that it's going to be taken care of like I take care of it myself. They drive it all over the United States and they've never put a single scratch on it."
Draper told me about witnessing an incident in Minneapolis where one of Knievel's planes was landed on a drag strip during one of his shows — "We had a trailer parked at the starting point of the drag strip with the back end of the trailer parked at the finish line, all the motorcycles lined up. Lee and I were at the back."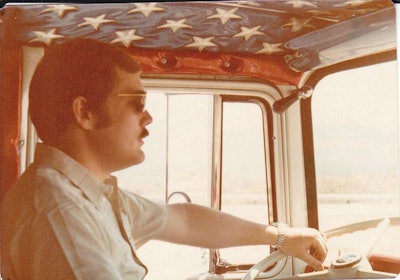 When the airplane landed "in the middle of the drag strip," Draper says, it was going too fast and blew its tires, "and he's coming right for us."
Fortunately, everyone emerged unscathed after impact — not so the trailer. "The plane didn't move the trailer one iota," says Draper. "There was no fire, no smoke, no nothing, but the plane was just a total wreck." And the trailer emerged with a gaping hole in it.
Knievel mentions the incident as the "one accident" he'd had with his Kenworth in the Overdrive interview. He later "told everyone I was then going to fly a plane head-on into the tractor. I was told it would be very expensive."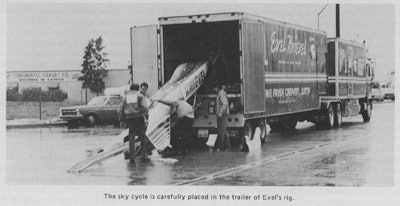 When on tour in those days, Draper says, in the trailer "we used to haul three motorcycles, all the aluminum ramps," and one or more of Knievel's Cadillac station wagons and pickups, as well as the SkyCycle (pictured being loaded here).
"He'd pay us twice a week," Draper adds, "and for whatever we spent we'd turn in our receipts and he was good with reimbursements." The drivers were paid $500 a week salary, otherwise.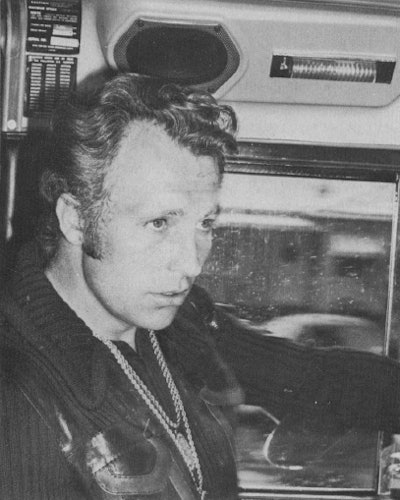 What was it like driving a truck for arguably the most famous man on the planet at the time?
"We never had to drive near as hard as most of the truck drivers, unless scheduling difficulties required it," says Draper. Nonetheless, the rig drew plenty of interaction with working long-haulers. "The truckstops we'd pull into – nobody saw many automatic transmissions on over-the-road trucks in those days. And at that time nobody was putting that big a coach on the back of a semi truck," Draper adds. "A lot of guys got to get in there and give it a look, too.
"It was quite an experience for a 19-year-old to start out with."
Draper drove for Knievel off an on through his mid-20s into the late 1970s.
You can download a pdf of the 1973 Overdrive story here.
And if you've missed it as yet, below take a video tour with myself and Robb Mariani through our cracking of the old safe found in the relic of Knievel's Mack haul rig's sleeping quarters, as well as a tour round the rig and trailer with North Carolina-based small fleet owner/truck restorer Brad Wike.
Related stories
Cracking Evel Knievel's forgotten safe
Got downtime in central Indy? 'Steel Ponies' on exhibit through Aug.
VID: Cracking Evel's safe with Robb Mariani, Brad Wike
Safe-cracking time: The Evel Knievel haul rig restore-in-progress