If you have or can schedule downtime in and around Indianapolis in the coming months, there's a neat exhibit for motorcycle enthusiasts and others interested in the history and culture of two-wheeled transportation at the Eiteljorg Museum of the American Indians and Western Art at the White River State Park downtown — (317) 636-9378. On March 10, Steel Ponies opens (running through August), featuring vintage historical motorcycles and famous Hollywood bikes as well as tricked-out custom jobs — and showing how they relate to both the real and imagined American West and Native America.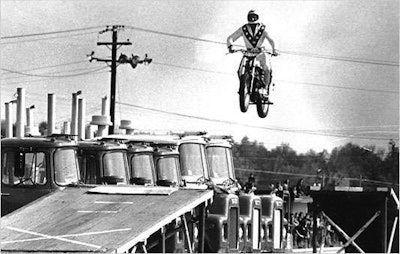 The exhibit features a motorcycle Evel Knievel used in many of his famous jumps; the "Captain America" bike used in the counterculture classic Easy Rider; and more than 20 other bikes of interest, including:
Custom Orange County Chopper Built in 2009 and featured on an episode of the Discovery Channel's American Chopper, this was Orange County Chopper's first Native American-inspired bike. The themed motorcycle, built for the Chippewa Nation, sports dream catchers for wheels and a tank and fenders made to look like birch bark.
Cowboy Customs chopper Art Attack In 2006, Western imagery it inspired master builder Russ Hess to come out of retirement after 21 years and create Art Attack. The unique Western styling of this virtual saddle on wheels is achieved with 47 pieces of engraved silver overlay and a total of 115 gold flowers and rubies.
1915 Harley on "Cannonball Run" Beginning in the early 1900s, many adventurous souls rode across the continent visiting sites in the American West. In 1915, Effie Hotchkiss became the first woman to make such a ride from New York to California, on a Harley- Davidson, with her mother, Ava, riding in the sidecar. Ninety-five years later, author and journalist Cristine Sommer-Simmons made the cross-county journey, riding a 1915 Harley nicknamed "Effie" in honor of Hotchkiss. Steel Ponies will feature Sommer-Simmons' bike and will highlight the contributions of women to the history of motorcycling. Sommer-Simmons will be at the museum July 21 to talk about her experience and to sign her new book.
Check www.eiteljorg.org for updated info on programming.