When owner-operator Henry Albert proposed that he test speed's effect on fuel mileage on his blog Feb. 22 by dropping his top speed from 65 to 60, he sparked a wellspring of commentary from his readers. At first, he marveled at all the reaction. In the end, however, it's easily explained: simple, quantifiable results are what any business owner wants and needs to help ensure the success of any change or investment.
It's no less understandable given Albert's long reporting on the fuel-mileage results he's seen from his rig, a Freightliner Cascadia geared for optimum fuel mileage at 65 mph and powered by the Detroit DD15 engine. As I've reported here, Albert, running primarily between Charlotte, N.C., and Laredo, Texas, has hit the 9 mpg mark repeatedly and averages above 8 mpg.
Beginning today, he's backing off the throttle to find out what 60 mph may be able to do for him, and owner-operators Bob and Linda Caffee, leased to FedEx Custom Critical in an expediting straight truck, are taking their speed up to 65 from 58 in a sort of counter-experiment. As Linda reports on her own blog here, her and Bob's 2012 Cascadia/DD13 unit to date has gotten an average 11.15 mpg. Stay tuned for results, and check out each hauler's unit's specs below.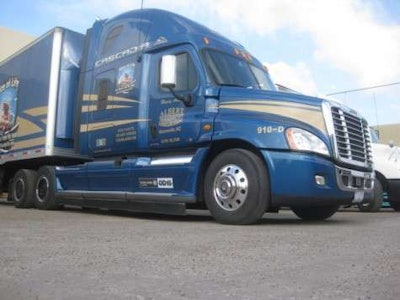 The competitors
Henry Albert, Albert Transport
2012 Freightliner Cascadia, 72-inch Raised Roof sleeper
Detroit DD15, 455 hp, 1,550/1,750 lb.-ft. torque
Eaton Fuller RTLOM-16913L-DM Ultrashift, 3:42 rears
Front Axle/Suspension: 13,000 lb.
Rear Axle/Suspension: 40,000 lb. Airliner
Dual 140-gal. fuel tanks
234-inch wheel base
Linda and Bob Caffee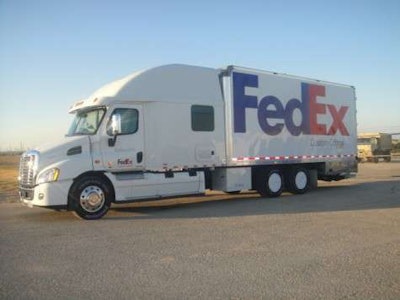 2012 Freightliner Cascadia
Detroit DD13, 370 hp, 1,250 lb.-ft. torque at 1,100 rpm
Eaton Fuller 10-speed UltraShift, 3:21 rear-ends