Trans Products / Trans Services Regulatory Manager Rich Wilson, during a break between sessions of the Motor Carrier Safety Advisory Committee meeting in Alexandria, Va., early this month, pointed out a couple curious problems with the medical forms some states are using. One, he pointed out, defined stage 3 hypertension as a blood pressure reading of, yes, greater than or equal to "10/90."
A typo, definitely, that could easily be fixed.
In the context of the hours rules as currently written, though, there was another oversight I imagine might well ring a hopeful little bell in your brain. As Rich Wilson asked — Why, right there in the description of driver responsibilities for medical certifications in state forms such as this one, does the old sleeper split seem to still be in effect? Check out the parenthetical description of team driving, and I quote: "drivers share the driving by alternating their 5-hour driving period and 5-hour rest periods."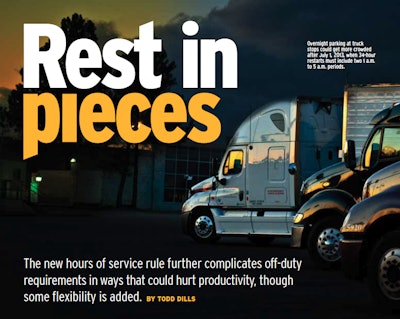 If only, eh? The latest on the recent hours revisions is that the American Trucking Associations delivered a valentine February 14 to FMCSA requesting court review of the new rules. ATA's president, Bill Graves, said this: "The rules that have been in place since 2004 have contributed to unprecedented improvement in highway safety. The law is clear about what steps FMCSA must undertake to change the rules and we cannot allow this rulemaking, which was fueled by changed assumptions and analyses that do not meet the required legal standards, to remain unchallenged."
Doesn't exactly argue for the old split-sleeper rule, does he? In any case, if you haven't gotten a handle on what the new rule actually would require, check out my brief feature on it in this month's Overdrive.
I'll be joining Wilson on the Truth About Trucking online radio show tonight at 7 p.m. EST. It's likely the hours rule will come up, but primarily we'll be discussing the MCSAC's recent meeting and recommendations to the FMCSA on the regulation of sleep apnea as well as how exactly to address the issue of electronic logs being used to harass drivers (in both cases, the agency has expressed intent to pursue new rulemaking).
Join us tomorrow to listen in and/or participate in the discussion via this link.
For background, check out my stories and blog items from the MCSAC meeting, all linked below:
EOBR report addresses driver harassment
FMCSA group eyes sleep apnea regs
Elephants in the room: MCSAC snapshot
Language of MCSAC / Medical Review Board recommended apnea guidelines — more from D.C.