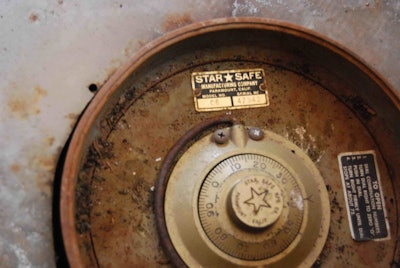 If all goes well, says American Trucker host Robb Mariani, tomorrow he, North Carolina-based Brad Wike and the rig's owner will at least attempt to crack a gallon-size safe found under a cabinet in the floor of the Evel Knievel haul rig Mariani located and featured on his show last year (check out the "Finding Evel" episode via that link). I'll be there for it, so expect an update.
"The story is Evel had some jewelry nobody ever could find" when he passed on, says Wike.
I had a great meet with Wike through midday today in Lincolnton, N.C., to get a glimpse into his BPW Transport five-Pete fleet and Brad's Classic Trucks restoration efforts. Check out the gallery below for a pictorial tour through the Evel rig and more, a 1974 Mack FS700L cabover (also pictured here) fitted with a box and, behind that, a fifth wheel for pulling a trailer (the trailer, which Wike's done a little more restoration work on already, is featured as well).
After getting stalled on initial restoration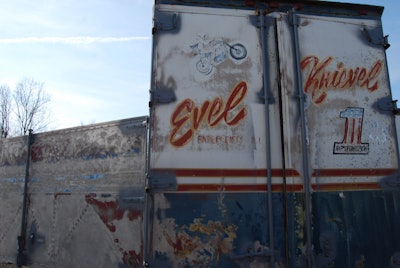 work from July last year on, he's been working to get the diesel going again more recently, achieving success a week ago today. I can attest. Taking into consideration the fact that the rig sat in a Florida yard collecting "about a foot deep's worth" of pine needles for more than 20 years, the engine sounds great.
"The fuel tank was dry and full of dirt," says Wike. Then once he got some clean fuel going to the pump he realized problems there. "We eventually sent the pump off with the injectors and had them calibrated — once we got that primed up, we got it running,"
The steering was locked up "from all the corrosion and rust built up," he adds, "so we took the steering box apart and got everything cleaned up," hooked all the driveline pieces back up and, "believe it or not," says Wike, the transmission did work. Though it has no brakes, they can at least move it slowly around the yard as needed.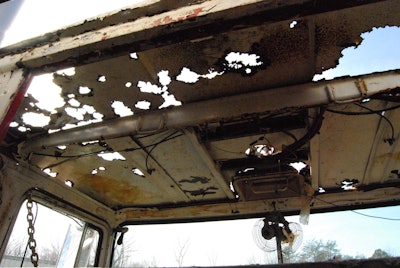 Plans for the rig are for it to leave its current location eventually, once Wike is done with some flooring and engine work, to venture to Elizabeth Truck Center in New Jersey, says Wike, where restoration work might well proceed more quickly. "They've got another Mack Western series F model cab" to replace the badly damaged, unsalvageable current cab (pictured), Wike says. "They'll save as many of the original parts as they can. Once they do the cab change they'll start on the restoration in terms of painting it like it was" originally, before Knievel apparently reversed the red and blue of the original paint colors when he went on his European tour late in his career.
Enjoy the vid and pictures below, and check in for updates on Overdrive's Facebook page and my Twitter feed tomorrow.
[kaltura-widget wid="wpfsjqlvvc" width="400″ height="365″ addpermission="" editpermission="" /]
[imagebrowser id=23]