This morning I'm headed out to Brad Wike's "Brad's Classic Trucks" shop and home of his BPW Transport company, both of which have gotten the feature treatment on the Speed Channel's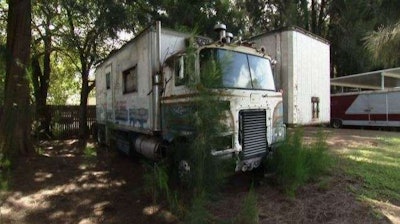 American Trucker show, hosted by Robb Mariani. Mariani helped engineer part of the reason I'm headed to Wike's shop: Wike's doing a partial restoration on the Evel Knievel haul rig (pictured), a custom-built 1974 F Model Mack cabover that Mariani sought out in the "Finding Evel" episode of the show (you can find more pictures via Robb Mariani's site).
Also, Wike's the owner of more than one vintage big truck — he's got the needle-nose Pete and trailer used in the film Duel, and a tribute Smokey and the Bandit 1973 KW and 1977 Hobbes trailer are in his stable. Check out more of his restoration projects via his site.
Wike's likewise owner and part operator of the BPW Transport fleet featured in American Trucker's "Independent" episode. Watch it and the Evel episode via the catalog of the first two seasons of the show on Truckers News' site.