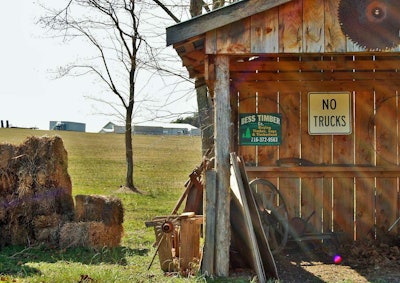 Upcoming next weekend in North Carolina and further along in Texas, a couple regional shows to keep an eye out for. One I've certainly written about — the site is the Lincolnton, N.C., small fleet shop and headquarters of Brad Wike and his Brad's Classic Trucks resto shop.
His vast expanse of lawn, pictured above behind the cheeky "no trucks" sign at the entrance from the road, for one day every September becomes the site of one of the biggest regional shows in the Southeast, well worth checking out. If you haven't gotten a look at Robb Mariani's "Low Patrol" Ford cabover hot rod, this would be a great place to do that.
This year marks the 14th edition of the Southern Classic Truck Show, with proceeds from the admission and entry fees benefiting the American Cancer Society's Relay for Life initiative. As usual, among the many owner-operator rigs on display will be Wike's own collection of movie-rig replicas, including both Duel and Smokey and the Bandit trucks. Catch a few more views from his shop in this old Channel 19 post from my visit in 2012, my first encounter of the Evel Knievel Mack haul rig you've heard so much more about recently.
Here's the flyer for the show: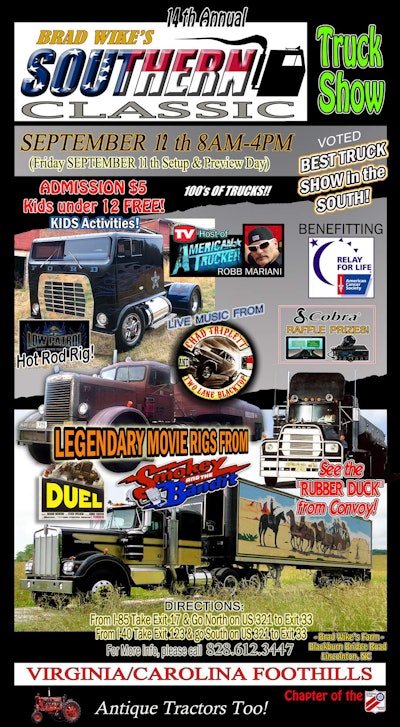 And down in Texas…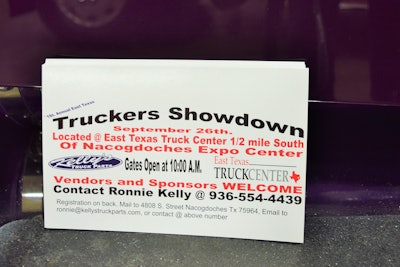 The "Truckers Showdown" flyer pictured above I noticed on the driver-side step of owner-operator Freddy Velasco's 2003 "California Dreaming" Peterbilt 379 on display at the Pride & Polish at the Great American Trucking Show last week.
Velasco had good things to say about the Nacogdoches Showdown, though as he noted at the time — you won't catch his truck there this year, as it coincides with 4 State Trucks' big "Guilty by Association" truck show in Joplin, Mo., where he'll be headed.
For those among you not making that show, give this one a look. Here's a link to the event's Facebook page.