Updated June 28, 2021, as part of Overdrive's ongoing weekly series of 60th anniversary lookbacks.
The video above showcases my 2017 talk with 20-truck tanker fleet owner Anthony Fox of Rome, Georgia, also proud owner and caretaker of the piece of trucking and film history that Fox and I were discussing -- one of the original 1970 Mack RS700 models used in the classic "Convoy" trucking film, released on today's date 43 years ago in 1978.
[Related: An era's social unrest finds an unlikely anthem in the rebellious 'Convoy']
What's better, the rig is attached to a likewise original trailer used in the film. It's a 1960s 5,800-gallon Trailmobile tank trailer with the battle scars, and prop-worthy mods, to prove it.
I met Fox upon arrival early at the Southern Classic Truck Show in September of that year, where the rig was set to reprise the "Hollywood Hill" Robb Mariani memorably wrote about here in Overdrive – a piece honoring the American cultural legacy of five famous trucks of the 1970s and '80s that got together at the Southern Classic the prior year, all together for the first time.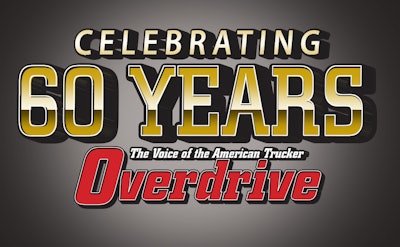 When Fox and I spoke, the rig was just about set to get a wash at the shop on the site of the show of host Brad Wike, who owns and operates the BPW ("Best Possible Way") Transport small fleet headquartered there. So apologies for the pressure-washer noise in the background through some of the video.
It all still makes for a fine tour through how the trucking company owner and operator came to own the rig. And he runs through its many unique features tied to particular moments from the film. You can catch further pictures of the unit below.