Trucking's rise in pop culture was well underway when "Convoy" was released in late 1975, capturing the hearts of not just truckers but many Americans.
The song, heavily laden with CB slang and conversation, tells the story of a spontaneous truck convoy that clashes with authorities. It was by C.W. McCall, who was actually a character co-created and voiced by advertising executive Bill Fries.
"It hit at a conjuncture of a lot of different things," said Todd Uhlman, assistant professor of U.S. socio-cultural history of the University of Dayton. "First of all, the trucker movie had really begun to take off." "Duel" had come out in 1971 and "White Line Fever" debuted in 1975. "Simultaneously, the CB had really begun to expand outside of the trucker circle and become a kind of pop culture phenomenon."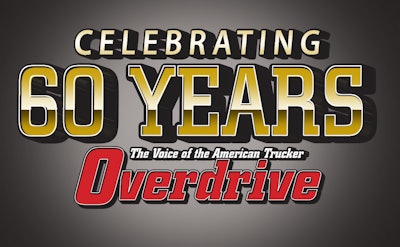 Americans were already shocked by developments of the early 1970s: the Vietnam War's conclusion, President Nixon's disgrace, the fuel shortage and rise in gas prices, and the first of large trucking protests.
Regarding the trucking actions, the national media were "all fascinated with these guys who pull their trucks over in the middle of the highway," Uhlman said. Media outlets surveyed readers and listeners, finding two-thirds supported the truckers.
The song led to the movie "Convoy," released in June 1978. Directed by Sam Peckinpah, it starred Kris Kristofferson, Ali MacGraw and Ernest Borgnine.
That movie and perhaps the most famous of movies involving trucking, "Smokey & the Bandit," also released in 1978, solidified the image of trucker as not just a highway cowboy but an iconic American rebel, bucking political and regulatory authorities, Uhlman said.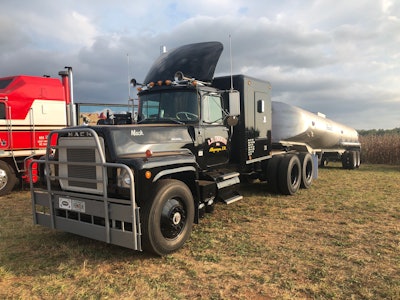 One of the five Macks used for the rig driven by Martin "Rubber Duck" Penwald (Kristofferson) in the "Convoy" production was a 1970 Mack RS731LST now owned by Anthony Fox of Rome, Georgia. He operates a small tanker fleet, Anthony Fox Trucking, running Rubber Duck only to trucking events. Fox said he plans to show the Mack at the Aug. 28 Special Olympics convoy in South Carolina, Brad Wike's Sept. 11-12 Southern Classic truck show in North Carolina, and possibly elsewhere.
Hear the Overdrive's Songs of the Highway podcast interview with Uhlman below for much more detail on the song and screen versions of "Convoy" (spoiler alert regarding the movie's ending):