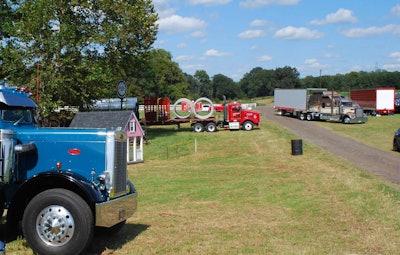 Things were really just getting going on the sizable Lincolnton, N.C., acreage of BPW ("Best Possible Way") Transport owner Brad Wike this past Friday afternoon when I took this picture. What's shown here, I realized later, is independent owner-operator Eric Engbarth's 2009 Kenworth W900 pulling in to park up that afternoon at Wike's Southern Classic Truck Show.
As is often the case at the myriad of local/regional shows around the country year in and out, Engbarth had what he said was one of the most particularly awesome things to happen to him at a truck show, Friday after the sun went down — several of the owners and vendors assembled for the evening projected Smokey & the Bandit on Engbarth's recent-vintage dry van to pass the time.
It's a testament to the welcoming, inclusive spirit that is Wike's show, which regular readers may remember for last year's edition, where Wike and company brought together five of the most famous movie trucks of 1970s and '80s in one place. Run through scenes from this year's event below — you'll see the "Hollywood Hill" got what might be one of its last reprises for the time being this year. And I met with/interviewed a variety of owner-operators — stay tuned for more from many of them as I get through the vids, pictures and more over the next month or two.