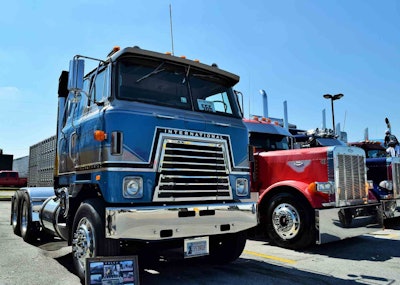 Regular readers will recall the shot above from last Saturday's post on the story of Jack Kelty and the blown steer that sent him off the road to total the vehicle in Pratt, Kan., in the mid-1980s. I came across the truck and an old newspaper story in the frame that's propped there against the passenger-side steer in the photo at the Guilty by Association show in Joplin:
Kelty's grandson, Kyle Kelty, reached out earlier this week with more of the story. Kyle is proprietor of a heating-and-air business in Stillwater, Okla., where he's based, and which his grandfather sold to Kyle's father in the late 1970s, when Jack Kelty went back trucking. He bought the TranStar in 1982, Kyle says, and "drove it until he wrecked it. Insurance didn't want to give him anything for it and he didn't want to get rid of it." Jack passed away a few years ago now, Kyle adds.
Kyle well recalls as a child venturing into Kansas with his grandfather, where $300 got the 1977-model cab shell that's on the 1976 today, replacing the destroyed original.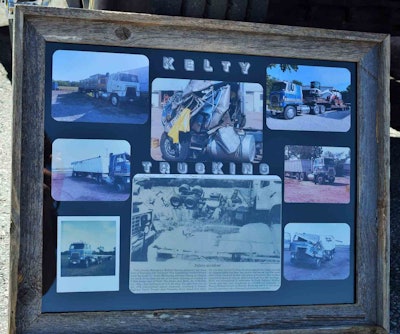 "He was still on crutches when we went up there," Kyle says, soon after the wreck.
In the mid-1990s, when Kyle was 16 or 17, he says, "I started wanting to be able to drive it, and I started working on it some myself."
Three-to-four years ago, a friend "gave me the nudge I needed to clean it up and put it back" more like it was originally: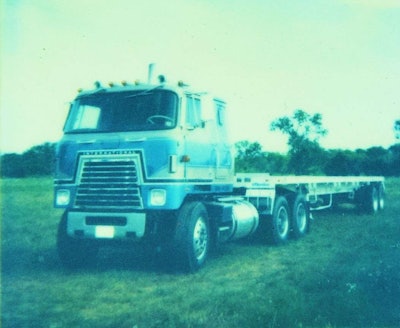 Other than re-creating the original paint scheme himself, Kyle's enlisted a variety of partners in the restoration effort, including Harland's Diesel Service in Ponca City to rebuild the 290 Cummins. (The "pretty low-geared" 13-speed transmission hits top gear at about 45 mph, Kyle says.)
He couldn't find an original bumper — not a good one, anyway — so he tracked down the part number and "Valley Chrome had it in their archives by the part number. They made one for me," Kyle says. "I put the half-fenders on from 4 State Trucks – I had quarter-fenders on like the original but was getting too many rocks." He also had an aluminum battery box "made here in town."
He's also got a matching Lufkin 1977 40-ft. flatbed whose floor and axles have been redone — "I also put newer wheels on it," he says.
He's taken a few trips in it, as he hauls cattle occasionally on the weekends mostly in a 1997 Peterbilt 379 he owns. "I didn't realize how much people would enjoy seeing" the cabover, he says. "I hauled a load to Big Spring, Texas, and guys in trucks would be waving and honking and hollering."
This year was the first time he showed it at 4 State's Guilty By Association show, but the week prior he was at the Busted Knuckle Truck Show in Wilkins at Oklahoma Truck Supply. At 4 State this year. he says, "there was another one out there like it." The owner "was still driving it. His son was kind of like me" about the old cabover, Kyle says, finally: "Wanting to drive it himself."
What goes around comes around, of a fashion. Find more pictures of the unit via this link.