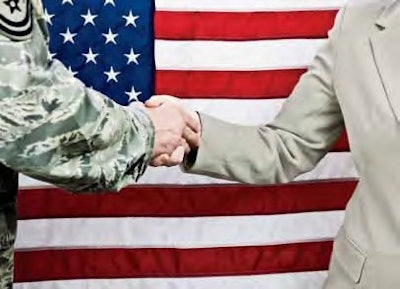 Seven technical and community colleges across the U.S. were awarded a combined total of nearly $1 million in grants from the Federal Motor Carrier Safety Administration to help train military veterans and their families for jobs as truck drivers.
The grants were awarded through FMCSA's Commercial Motor Vehicle Operator Safety Training (CMV-OST) grant program.
"We charge each of the institutions that will receive a grant to train those that have served our nation in the armed forces to be the very best professional drivers in the industry," said FMCSA Administrator T.F. Scott Darling, III. "In this profession, being the best requires an absolute commitment to making safety the top priority, and I believe there is no group better prepared to do that than our veterans."
This year's grants are expected to provide training for more than 250 students, according to FMCSA.
The grants were presented to the following institutions:
Joliet Junior College, Joliet, Ill. – $159,800
Hawkeye Community College, Waterloo, Iowa – $100,524
Johnson County Community College, Overland Park, Kan. – $104,376
Central Technical Center, Drumright, Okla. – $200,000
Rogue Community College District, Grants Pass, Ore. – $71,300
The Sage Corporation, Camp Hill, Penn. – $210,980
Tidewater Community College, Norfolk, Va. – $149,967
The grants are a continuation of other efforts by FMCSA to get military veterans involved in the trucking industry. The agency proposed in August a pilot program that would allow for under-21 truckers to operate across state lines, so long as they have military experience driving large vehicles. FMCSA has also issued a Final Rule that gives military personnel who drove commercial vehicles in the service a full year to apply for a waiver from the CDL skills test, up from the previous 90-day period.