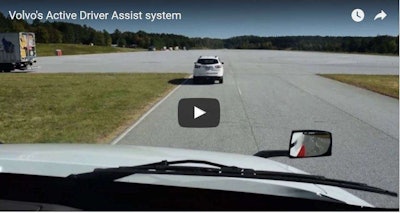 Volvo Trucks North America gave industry press and fleet customers an up close look this week at the company's new Volvo Active Driver Assist system in a track demonstration in Laurens, S.C., showing off the crash avoidance tech meant to prevent severe rear-end collisions and rollovers.
The VADA system is built upon Bendix Wingman Fusion active safety system, fully integrating it from the factory with no external monitors or displays. That level of integration means all of the system's alerts appear in the main Driver Information Display within the instrument cluster.
VADA takes the Fusion system a step beyond current capabilities by incorporating a 42-degree angle camera with the 22-degree radar sensor. Current models rely solely on radar. The addition of the camera allows the system to better detect other vehicles and react accordingly, says Ash Makki, Volvo's technology marketing manager.
The system constantly reads the road ahead, using the camera system to identify other vehicles and the radar system to track their movement. Should the system detect an impending rear-end crash, such as when stopping distances begin to narrow quickly, it will alert the driver with visual and audio warnings.
If the driver does not take braking or steering action to avoid the crash, the truck will autonomously engage the brakes in an attempt to prevent the crash or reduce the severity.
VADA's new camera and radar also allow for more accurate lane departure warnings and a bolstered active cruise control system that maintains proper following distances at highway speeds.