Convoy announced Tuesday that it has partnered with shipper Unilever North America in a multi-year trucking agreement to move freight. It's a victory for the Convoy company, a brokerage operating in something of a nontraditional way, enabled by technology to streamline elements of the freight transaction (think "uberization of trucking") for a young company in an increasingly crowded space that has seen no small amount of recent developments.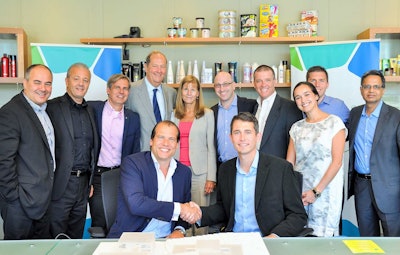 The Unilever-Convoy deal will represent millions in freight revenue flowing through the service next year, Convoy CEO Dan Lewis says. Today, "We're doing hundreds of loads a week," spread out from its initial Washington State area of focus to most areas West of the Rockies and in Texas. Likewise, some lanes extend all the way to the East Coast.
Serving shippers' loads to carriers on lower margins than a traditional brokerage's is the holy grail for the new crop of such companies. At once, Lewis is quick to note with the approximately 3,000 mostly small carriers signed up with its service to date that the "disintermediation" idea — getting rid of the middleman in the freight transaction — that so many talk about isn't the goal for Convoy. "People say, 'Hey, let's get rid of the middleman,'" Lewis says. "People think they can replace all the manual pieces [of moving a load] at once. And you can't. We think about which ones can we automate and which ones need to stay manual. And which ones can be self-service for those using the app?"
What it wants to do is improve service levels as a brokerage on lower margins, simply put, using technology to make load transactions quicker and more profitable for carriers, he adds. "We take a smaller cut than most brokers do. It's not obvious what the actual market is for a lot of runs. A big part of what we're doing is pricing. We're experimenting with new things for drivers to give us better feedback on pricing. In the future, if brokers were taking 20-25 percent, I'd love to take significantly less than that and give it back to the driver and customer equally."
Estimates of most brokers' margins range closer to the neighborhood of 10-20 percent.
Nonetheless, the Unilever deal resulted from the shipper's evaluation of a variety of similar on-demand trucking service providers. Unilever selected Convoy, the company says, because of its commitment to superior service, driver safety and ongoing development of technology to streamline procurement, improve on-time delivery, empower drivers and deliver savings through operational efficiencies.
"Unilever is one of the largest companies in the world, yet they're incredibly agile and forward thinking— especially in their approach to supply chain innovation," says Lewis. "Their vision to reduce manual processes and make trucking more efficient aligns directly with ours."
Reginaldo Ecclissato, Senior Vice President of Unilever Supply Chain Americas, noted he believed Unilever shares with Convoy "a focus on driver health and well-being. Convoy has put the driver experience at the forefront of their proposition and delivered a progressive app to address many of the long-standing issues facing the driver community."
Among things Lewis cites as demonstrating some of these issues include payment terms for loads within 24 hours of delivery, without an associated fee, for instance, for carriers.
Where Convoy was at its launch last year: