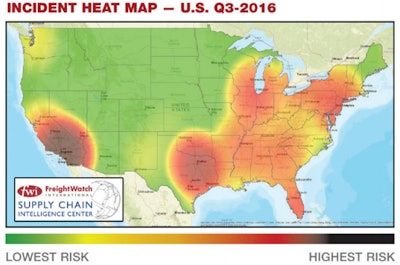 FreightWatch International recorded a total of 193 cargo thefts in the third quarter of 2016, with the average value loss of $120,536. FreightWatch issued its third quarter cargo theft report this week.
Compared to the year's second quarter, thefts rose 14 percent, while value dropped 26 percent drop. Compared to 2015's third quarter, thefts were up 7 percent and value loss up 38 percent.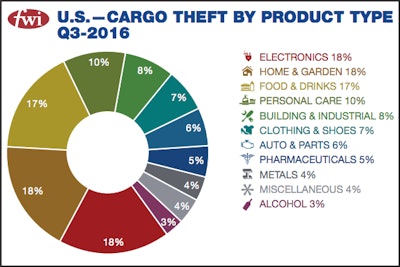 FreightWatch reported 77 cargo thefts in July, 66 in August and 50 in September.
Electronics and home and garden were the most-stolen items in the quarter, each representing 18 percent of cargo thefts during the period, according to FreightWatch. Food and drinks represented 17 percent of stolen items. In electronics, televisions and displays accounted for 31 percent of the thefts. For stolen home and garden loads, appliances were the most targeted. Meats and produce each accounted for 18 percent of the food and drink loads stolen.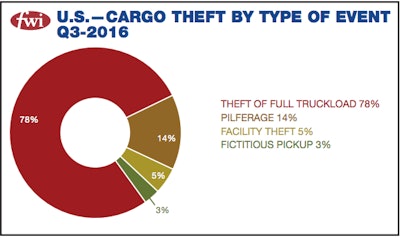 Home and garden items saw the most dramatic increase in thefts from the same quarter last year, climbing 94 percent increase. Electronics thefts rose by 46 percent year-over-year.
California ranked as the top state for thefts, accounting for 38 percent of total thefts in the quarter. Texas followed with 16 percent. Of the 193 thefts in the quarter, 75 percent of them occurred in unsecured parking locations, FreightWatch says. Secured parking locations accounted for 13 percent of thefts, and warehouse and distribution centers represented 11 percent of the thefts.
Additionally, FWI says theft of full truckload was most prevalent with 78 percent of third quarter thefts.