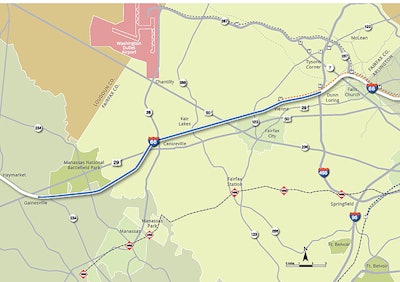 Virginia has selected a private consortium to finance, build and operate the I-66 toll expressway outside the Capital Beltway under a 50-year concession.
Despite the new lanes being toll lanes, the general use lanes will remain free for truckers.
Express Mobility Partners will maintain one express lane and three regular lanes in each direction between the Beltway/I-495 and U.S. Route 29 in Gainesville. EMP will set and collect express lane tolls.
Motorists with three or more people in their vehicle and an E-ZPass Flex may use express or High-Occupancy Toll lanes for free. Otherwise, variable toll pricing will be used, which adjusts price to current traffic volume.
The state's HOT lanes network has expanded through public-private partnerships and may allow large trucks to use the I-66 HOT lanes outside the beltway. Trucks will remain barred from I-66 inside the Beltway after VDOT completes work on a separate HOT lanes project.
Next month, the agency plans to sign the agreement with the partners, comprised of Cintra, Meridiam, Ferrovial Agroman US and Allan Myers VA. The consortium will not require public investment when it begin construction next year. Additional responsibilities include:
• Designing and maintaining the expressway.
• Paying $500 million upfront for additional corridor improvements and $800 million to build and operate transit service and
• Funding $350 million in other I-66 improvement projects over the next 50 years.