The SmartDrive company announced Tuesday enhancements to its existing dual- and four-camera on-highway video and driver-coaching platforms, including the "Extended Recording" always-on-capable system. In a Q&A session with reporters, company reps addressed the potential for a future mandate for video-safety platform use. Noted SmartDrive Vice President for Marketing and Analytics Melissa Purcell, "to the extent that we're engaged with government agencies," a belief that video systems have a lot to bring to highway safety "is certainly our position." SmartDrive, notably, is a vendor working with the Virginia Tech Transportation Institute on the Federal Motor Carrier Safety Administration's study of more permissive split sleeper periods, as reported early this year.
Also significant, the policy advisory National Transportation Safety Board called for a mandate for video-platform use in its annual Top Ten Most Wanted list of safety policy improvement measures. At once, said Purcell, given the "pace at which other technologies have been mandated," she "wouldn't think a mandate would come in a year or two."
The company video platform's new capabilities target what it calls high priority areas for fleets, delivering on the top requests from existing customers and providing new levels of productivity and protection.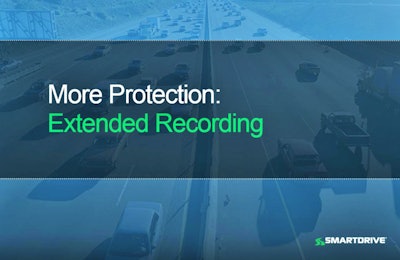 For fleets opting to enhance SmartDrive's basic G-force-activated event-capture-and-coach video platform by enabling the retrieval of non-G-force video events with the Extended Recording feature, SmartDrive has doubled the storage capability to approximately 16 days of video. Extended Recording "has been available for some time and growing very rapidly," says Vice President of Product Management Mark Freitas. It's available in varying subscription and per-video-ordered bases.
The video context provided around non-G-force events helps fleets "understand a variety of different situations" not otherwise covered by the standard SmartDrive video platform, Freitas says, including thefts, workers compensation claims, driver compliance with company policy and minor accidents such as side-swipes that may not otherwise trigger the camera.
Extended recording, too, can allow fleets to extend the viewing period before and after particular events to broaden context, enabling something of a virtual ridealong, reps say. Map views can provide clarity to time and place of events if inaccessible for any reason — such as being forgotten "by a flustered driver," Freitas added.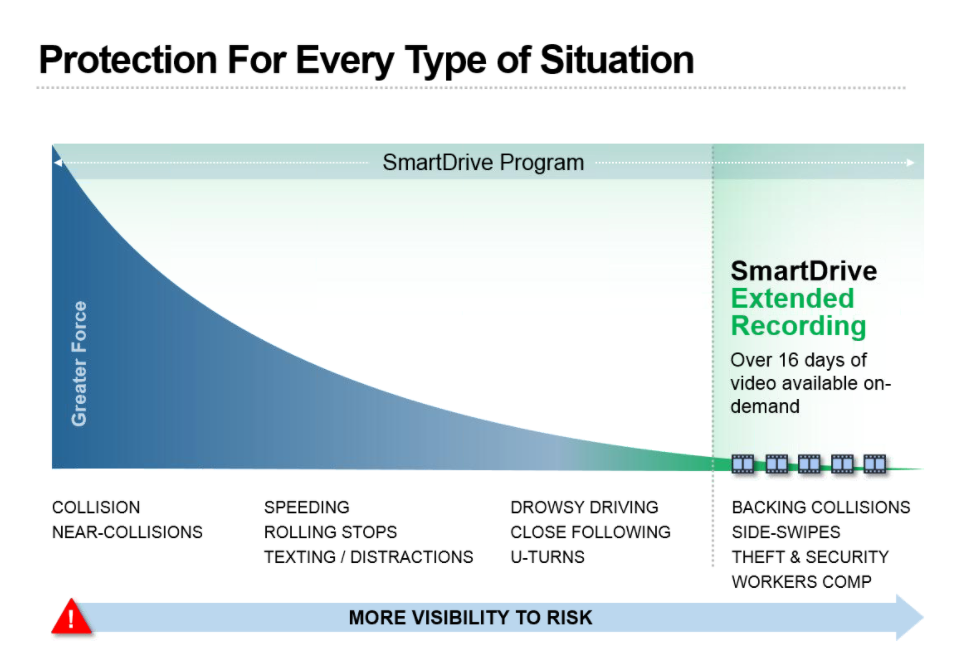 Available now to all SmartDrive platform subscribers, the company says, are recent enhancements to its coaching workflow, utilized by back-office managers to prioritize events for driver coaching and instruction. Enhancements include usability improvements, integrated contextual performance metrics from SmartDrive's transport intelligence platform throughout the coaching workflow, driver scorecards with trended performance data, a new "Prep Mode" to facilitate coaching preparation, and skills-based or event-based coaching options.
"The integrated metrics and driver scorecards clearly show where an individual driver stands against his or her peers," says Jerry Peterson, Bulldog Hiway Express safety manager. "Showing them the metrics, coupled with the video, immediately adds credibility to the discussion with the driver."
Platform access, too, has been optimized for mobile devices with recent updates, SmartDrive says. Shopping-cart functionality allows fleets to order extended recording or on-demand video immediately when needed or schedule in advance, track the order and receive email status updates.