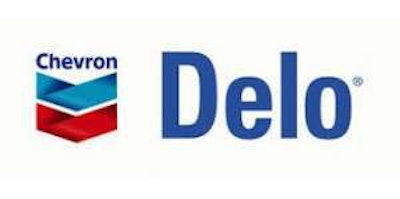 Chevron announced Thursday the availability of its higher performing line of Delo 400 API CK-4 and FA-4 heavy duty engine oils (HDEO), each engineered with an advanced formulation of Chevron's proprietary ISOSYN Advanced Technology.
Rommel Atienza, Chevron Lubricants North America commercial brands manager, says the new Delo 400 with ISOSYN Advanced Technology product line offers up to 68 percent better wear protection; 46 percent better piston deposit control; and 35 percent better oxidation control versus previous generation oils.
"We're seeing a major shift in how our customers select engine oil," says Atienza, noting that in preparation for the new API CK-4 and API FA-4 categories, Chevron developed a range of Delo 400 heavy duty engine oils for both on- and off-road customers.
Four new Delo formulations hit the market Thursday, including Delo 400 SDE SAE 15W-40 (CK-4); Delo 400 XLE SAE 10W-30 (CK-4); Delo 400 XLE SAE 15W-40 (CK-4) and Delo 400 ZFA SAE 10W-30 (FA-4).
Delo 400 SP SAE 0W-30 (CK-4) and Delo 400 XSP SAE 5W-30 (CK-4) will be available in April.
Delo's CJ-4 offerings will remain on the market.