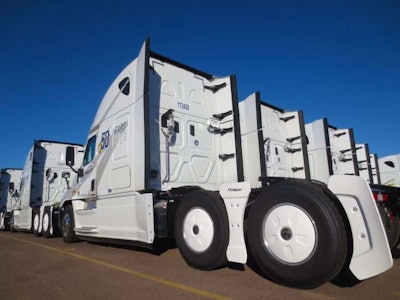 Swift Transportation, country's largest truckload carrier, will outfit approximately 40 percent of its 18,000 truck fleet with FlowBelow's aerodynamic Tractor AeroKit System next year, the company announced Tuesday.
Swift first tested the Tractor AeroKit in 2014 with an initial SAE fuel efficiency test and later deployed 100 AeroKits into its fleet to further test the product's durability, ease of use and real-world fleet average fuel efficiency performance.
The FlowBelow Tractor AeroKit, which includes four quick-release wheel covers and four fairings strategically placed between and behind the drive wheels of the truck, reduces aerodynamic turbulence and drag around the rotating wheels of the truck.
For trucks traveling above 40 mph, FlowBelow says the system is effective at lowering drag, which means less horsepower is required to move the vehicle, and in-turn leads to improved fuel efficiency.
Citing multiple third party tests, FlowBelow claims the Tractor AeroKit is verified to provide fuel savings of up to a 2.23 percent.